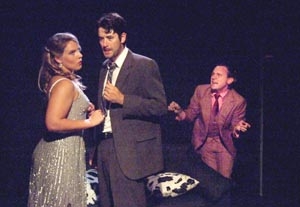 Screenwriters Jim Abrahams, Jerry Zucker, and David Zucker devised what felt like a new generation of zany spoofs with their 1980 hit film
Airplane
!, shamelessly elevating corny humor to new heights. The creative trio's gag-per-second style subsequently endured in other films, such as the
Naked Gun
franchise, and spawned many imitators. Writer-director Kasey Wilson's
Nights of Noir
is clearly inspired by the Abrahams-Zucker approach yet only occasionally comes close to emulating its progenitors' glorious giddiness.
Sending up classic 1940s private-eye film melodramas and pulp-fiction heroes like Mickey Spillane, Wilson's two one-act plays cleverly suggest episodes of a vintage black-and-white TV series. The scripts follow the exploits of private dick Bolt. (Predictably, Wilson can't resist parlaying the character's job title into dicey double-entendre lines.) Lending a perfect air of deadpan drollery and lady-killing seductiveness as Bolt, Scott Gerard is a master farceur, the production's strongest asset. With his sleepy-eyed glare, laid-back speech cadences, and the ability to maintain a straight face while delivering hokey mock-poetic lines, Gerard serves as a welcome anchor amid the broadly etched stereotypes that surround him. He even manages to keep his cool while dealing with a witless scatological gag that goes on far too long. Among other standouts in the generally adept ensemble are Eric Charles Jorgenson as a wooden-legged German eccentric named Albee Monkey's Uncle, Drew Droege as a klutzy thug called Thin Guy, Elizabeth V. Newman as a sultry femme fatale, and Rachel Kanouse as the quintessential embodiment of a B-movie wronged dame.
Marked for Love
, about a search for a stolen diamond called Thyroid of the Ocean, is the funnier playlet, probably because its plot is simpler, allowing this piece to focus more on the goofy one-liners and the insanity of the situation. The more belabored
Dicks and Dames
charts the search for a missing young woman. Wilson appears in a superfluous striptease olio preceding it.
Among the evening's highlights are a shoehorned-in musical-comedy sequence and a priceless sight gag when a character "slips a mickey" into a drink. The low point is the tasteless inclusion of a photo of the recently deceased Bea Arthur, supposedly as a character's mother.
Presented by EVN Productions and Old Timey Productions in association with and at the Attic Theatre and Film Center, 5429 W. Washington Blvd., L.A. May 22–June 27. Fri.–Sat., 8 p.m. (323) 960-1055
.
www.plays411.com/nightsofnoir
.