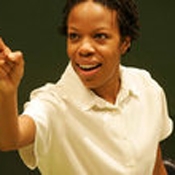 Writer-actor Nilaja Sun had a compelling story to tell, inspired by her experiences teaching for several years in New York's toughest public schools. In collaboration with director Hal Brooks, Sun created a solo play-within-a-play-within-a-play that premiered Off-Broadway in 2006. Though she is a master at mimicry and pulls off astonishingly lucid split-second transitions among multiple characters, what is most remarkable about her piece is how she seamlessly blends rich character humor and a lifetime of astute observation into a subtly powerful portrait of our nation's disadvantaged youth and the pressing need to allocate adequate educational resources for the well-being of present and future generations.
We've seen plenty of classroom-from-hell and teacher-inspires-students narratives over the years, from Blackboard Jungle to Stand and Deliver, but Sun's artfully conceived piece avoids clichés and preaching. She fashioned a fictionalized narrative about the efforts of a drama teacher (Sun) to inspire a volatile and racially mixed class of 10th-graders at Malcolm X High School, an imagined composite of the schools where she taught. She leads the students through a production of Timberlake Wertenbaker's Our Country's Good, about Australian convicts putting on a play. As the communal lessons learned by the amateur-thespian prisoners in Wertenbaker's play open up their minds and hearts, a parallel is drawn to the enriching experiences of the oppressed Malcolm X students. The students' prisonlike environment is illuminated by Sun's portrayal of a gruff security guard who puts them through a daily ritual of entering through metal detectors.
Among the many other characters masterfully portrayed by Sun are a taunted Asian-American instructor, the wise male janitor who narrates the tale, and male and female students of various ethnicities. With no costume changes and few props, Sun uses her voice and body to conjure an array of distinct and fascinating human beings, etched with mind-boggling clarity and impeccable detail. Sun is of Puerto Rican and African-American descent, and she uses her sharp powers of observation to re-create the hopes, dreams, fears, and above all the humanity of people she has met. Her tour de force vehicle is a heartfelt and profoundly meaningful standout in the sometimes-problematic solo-show form.
Presented by Center Theatre Group at the Kirk Douglas Theatre,
9820 Washington Blvd., Culver City.
Tue.-Fri. 8 p.m., Sat. 2 & 8 p.m., Sun. 1 p.m. (Mar. 30-Apr. 13), 6:30 p.m. (Mar. 16-23) (Dark 8 p.m. Mar. 26-28, Apr. 1-4 & 8-10.) Mar. 7-Apr. 13.
(213) 628-2772. www.centertheatregroup.org.