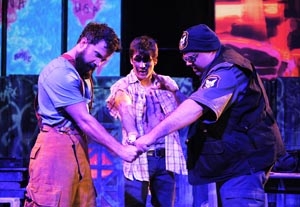 The fearless Furious Theatre Company is back with a vengeance, offering the 10-year-old group's first production since losing its residency at the cozy Carrie Hamilton Theatre on the Pasadena Playhouse grounds in early 2011. Director Dámaso Rodriguez's thrillingly visceral world-premiere staging of Matt Pelfrey's subversive dark comedy "No Good Deed" represents a welcome return for the iconoclastic company. Pelfrey has fashioned a bracingly cerebral and nerve-rattling piece. Though the play needs to bring its complex narrative and heady themes into focus more quickly and lucidly, the project pays off as an intellectually stimulating ride.
Pelfry's program notes suggest that the play was partially inspired by the incident in which security guard Richard Jewell found a bomb during the 1996 Atlanta Summer Olympics and subsequently was accused of planting it. The playwright explores the overzealousness of our nation's crass media outlets, related in a surrealistic tale of heroic deeds that backfire on three fictional celebrated do-gooders. Josh Jaxon (Nick Cernoch) is a spirited teenager who is a target for school bullies and his abusive stepfather (Robert Pescovitz). The youth escapes into the graphic adventure novels that he writes. His fate intertwines with the misfortunes suffered by a fireman (Shawn Lee) and a security guard (Troy Metcalf). These two public servants become media heroes after saving lives. Meanwhile, Josh derives fame from his rescue of a girl (Katie Marie Davies) from an attack by a crazed rapist (Dana Kelly Jr.). Then the media begins to subject each of them to character assassination. The narrative segues from blaring media broadcasts of the trio's rise and fall to their meeting in a metaphysical dimension, where the three heroes attempt to turn time back to before each performed his deed.
The world of superhero comic books provides this project's visual and metaphorical grist. The action is lightning-paced, the assimilated violence (fight choreography by Brian Danner) is astonishingly realistic and disturbing, and the visual design (set by John Iacovelli, lighting by Dan Weingarten, costumes by Christy Hauptman, video projection by Jason H. Thompson, props by Shannon Dedman) is enthralling. Doug Newell's marvelous sound design and original music add to the galvanizing impact.
Cernoch gives a riveting portrayal of the plucky and courageous but overwhelmed youth, while Metcalf and Lee are likewise compelling. The large supporting cast—some actors playing multiple roles—excels. It requires patience and rapt attention to absorb the nuances of this intriguing but sometimes unwieldy play. Trimming and retooling the ambitious piece would unquestionably be worth the effort.
Presented by Furious Theatre Company at [Inside] the Ford, 2580 Cahuenga Blvd. East, Hollywood. Jan. 21–Feb. 26. Schedule varies. (323) 461-3673 or www.fordtheatres.org.