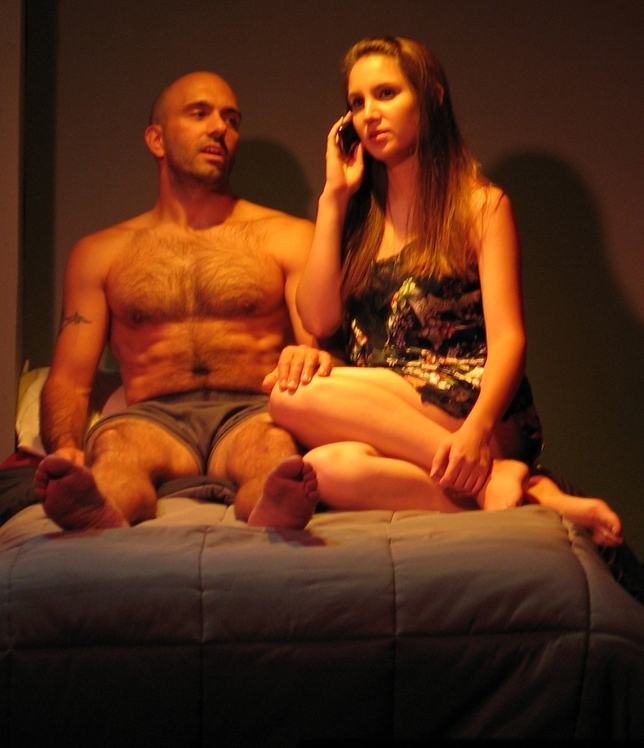 There's not much to love in "No Love." Nor is there reason, a point, or even performances and production values that might mitigate its inadequacies. In a pre-show announcement, the audience is warned that there will be violence and nudity and told that if we like what we see, we should tell our friends. If we don't like it, we are asked to still tell our friends that there is violence and nudity.
There is violence and nudity.
The play is set up as a roundelay of intertwined lovers, a familiar device that has been utilized better and with far more ingenuity elsewhere. Maggie (Lili Stephens-Henry) starts things off by talking directly to the audience. Soon after, while being graphically raped, she props her head on her hand to again break the fourth wall and bemoan her lack of judgment in putting herself in that situation, a sentiment with which the entire cast should be able to identify. This direct address conceit is then dropped for the rest of the play, an indication of how little thought about structure has gone into Andrew Osborne's puzzlingly inadequate script.
Suicidal Larry (Blake Anthony) runs into his high school sweetheart Lydia (Laura Lee Bahr), who is in a drastically abusive relationship with her husband, Harlan (Ryan McDonough), that includes wearing restraints and a chastity belt as she whimpers to be fed dog food from a bowl. In the throes of sexual need, Rosie (Beth Ricketson) tries unsuccessfully to seduce her gay friend Brandon (Dustin Brooks) before settling for straddling the sleeping Harlan, who happens to be her brother. His response is to kick the crap out of her. People get naked, blood spews, servings of Pedigree are gratefully devoured, and two people are shot dead, none of which is very shocking or titillating.
In the extraordinarily clumsy staging by director Kerr Seth Lordygan under the bizarrely unwatchable lighting of John Dickey on Marco De Leon's cramped and unworkable set, people drive cars with hands on an invisible wheel, one hand moving as the other remains stationary. They also exit their vehicles with synchronized door slams only to walk directly through the car's hood. Most of the acting is adequate. Daniel Marmion does the best work as a lovelorn marine named ZZ, and Bahr has some good moments as Lydia, at least until she drops her clothes to reveal costumer Sally Anne Ward's idea of bondage apparel, something to make Rosie O'Donnell's dominatrix gear in "Exit to Eden" suddenly look appealing.
It states in the publicity for this presentation that a "sharp eye will detect the influences of Chekhov and Schnitzler." Must be Manny Chekhov and Vinnie "The Man" Schnitzler, who undoubtedly write the inane dialogue for porn films that occurs before the action gets underway. If theater isn't transformative, it should be illuminating or at least entertaining. "No Love" makes you want to go home and take a shower.
Presented by and at the Eclectic Company Theatre, 5312 Laurel Canyon Blvd., Valley Village. Aug. 31–Oct. 6. Fri. and Sat., 8 p.m.; Sun., 7 p.m. (Additional performances Thu., Sept. 20 and Oct. 4, 8 p.m.) (818) 508-3003 or www.eclecticcompanytheatre.org.
Critic's Score: D-