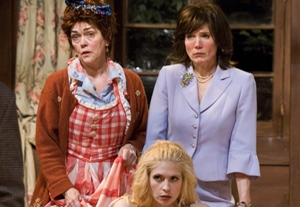 Michael Frayn's delightfully complicated British farce could hardly have a better rendition than this. In dual roles as the real director of this production and playing the director of a play within a play, Geoff Elliott shows his comedic chops as he portrays the beleaguered director trying to cope with a less-than-stellar cast. Frayn's play requires split-second timing to pull off this production fraught with theatrical shenanigans, romantic complications, madcap physicality, and lots of slamming doors, and Elliott tackles all with surety.
The purported play is called "Nothing On." In Act 1, we watch a dress rehearsal of the play set in a country house owned by a tax evader and his wife (Stephen Rockwell and Jill Hill). They have arrived secretly to spend a weekend celebrating their anniversary. Unfortunately, their arrival coincides with a plan by their housekeeper (Deborah Strang) to stay late and watch the telly, as well as with a real estate agent's cozy weekend plans with his blond girlfriend (Mikael Salazar and Emily Kosloski).
Once the first act of "Nothing On" is established, our Act 2 takes place backstage, and Shaun Anthony, Lenne Klingaman, and Apollo Dukakis get their turns to add further complications to the mix. Adam Lillibridge's neatly hinged two-story set allows for seeing the zany mix-ups of the actors in the production. Finally, in Act 3 we are treated to the often-hilarious mishaps as all cast members perform "Nothing On" with no holds barred.
This is a well-oiled ensemble production. Hill and Strang make the most of their slightly dotty Englishwomen. Kosloski's dim, wide-eyed blonde is an inspired performance aided by Salazar's gratifyingly inept lothario. Dukakis adds the old-pro touch to his bumbling burglar, and Rockwell's unassuming milquetoast is a choice bit of understated art.
Reviews cannot do Frayn justice. You have to see the play to appreciate its artful construction and to applaud the fine ensemble work.
Presented by and at A Noise Within, 234 S. Brand Blvd., Glendale. Nov. 14–Dec. 20. Repertory schedule. (818) 249-0910, ext. 1. www.anoisewithin.org.