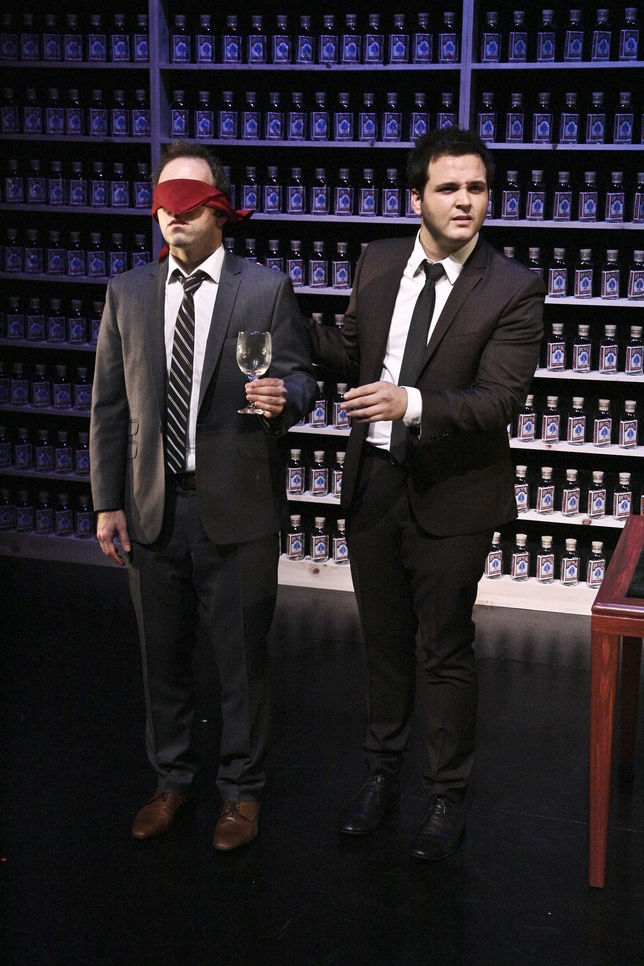 Seeing Derek DelGaudio and Helder Guimarães perform at the Magic Castle in Hollywood only a few months ago afforded Neil Patrick Harris what he admits was "one of the most amazing, confounding, and magical nights of my life." He became convinced that DelGaudio and Guimarães needed to bring their engaging show to a larger audience. How lucky they came under his wing, as Harris championed the duo and agreed to direct "Nothing to Hide," a hybrid of what he experienced that fateful evening that's debuting in the Geffen's intimate second space.
It's been a rapid and serendipitous journey for these gifted but rather unassuming sleight-of-hand magicians. According to Criss Angel, there's no such thing as magic, only illusion. Yet if the tale DelGaudio and Guimarães recount about what united them over the last year is not something fabricated as part of their act, there might be some doubt about that statement. It was only last January when Guimarães came to America from Portugal and through a trick of destiny was introduced to the newly partnerless DelGaudio. "Every single choice," DelGaudio suggests, "is leading to a single unavoidable occurrence, whether you know it or not." Ten months since meeting for the first time, DelGaudio and Guimarães are headlining at the Geffen.
They are dwarfed by designer Dave Spafford's massive wall of 66 shallow cubicles, each containing a dozen clear glass bottles, which in turn are stuffed with single-boxed decks of cards. At one point, after bringing someone arbitrarily chosen to the stage, they asked her to select another person in the audience to shout out a suit and a card rank. The onstage volunteer was then asked to pick one of the 792 bottles on display, which was quickly shattered. Inside, the only card in the deck placed face up was the card the other person indicated, an occurrence made more mind-boggling when it was revealed that all the other 51 cards were blank.
This is one of the many illusions DelGaudio and Guimarães conjure in 70 rapid-paced minutes that are populated by stories about seeing a Chupacabra while taking lessons from a clockmaker and poking fun at the usual patter that most prestidigitators deliver in "shitty magic shows." Every magician talks about dreams, DelGaudio notes, and "what could be more sappy, insincere, and cliché"? What raises "Nothing to Hide" above all that is the clever and irreverent ramblings of DelGaudio, who shares a remarkable chemistry with his partner of only 10 months.
Although it must be gratifying to bring their wares to the larger audience Harris envisioned, the challenge must have been how to bring what is usually termed "close-up magic" to a 135-seat house. With the reinforcement of DelGaudio's script, spare but effective staging by Harris, Adam Blumenthal's resonant lighting, and the quirky Nino Rota–like musical score of Pedro Marques, this departure from the traditional theatrical productions that usually inhabit the Geffen's second space is pleasantly headshaking and highly refreshing.
Presented by and at the Geffen Playhouse, 10886 Le Conte Ave., L.A. Nov. 27–Feb. 24. (310) 208-5454 or www.geffenplayhouse.com.
Critic's Score: A-