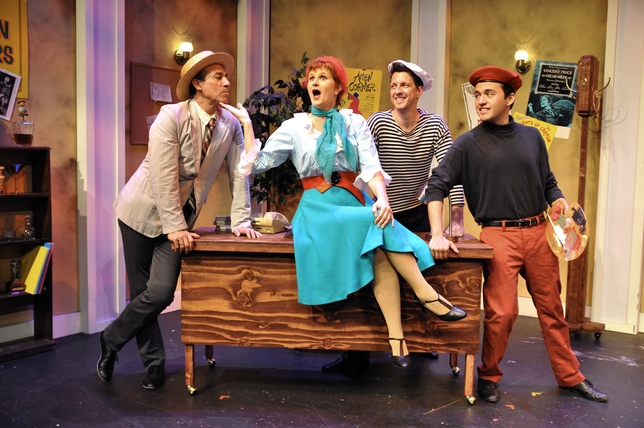 Bob Hope called Betty Hutton "a vitamin pill with legs." From her heyday as one of Hollywood's biggest stars to her later days working as a cook in a Rhode Island rectory, Hutton was a force of nature despite the extreme highs and lows of her life and career. Musical theater veteran Diane Vincent became interested in the star's story and how she lost everything. That obsession led to "Nuttin' but Hutton," an ambitious musical tribute to the late, great Miss H., as she liked to be called in her post-Hollywood years while working the summer stock circuit.
Vincent, who co-created the show with her husband, Sam Kriger, also stars, performing more than 20 of Hutton's songs, and the evening is a treat for anyone old enough to remember the carefree days of schmaltzy musical entertainment. Although it features some of Hutton's enduring hits, such as Irving Berlin's "There's No Business Like Show Business" and "Anything You Can Do," which Hutton sang in the screen version of "Annie Get Your Gun," also included are more obscure tunes, including Frank Loesser and Jimmy McHugh's "Murder, He Says" and Loesser's "Can't Stop Talking." The last two are rapid-fire tongue twisters that led one gansta type to remark in a taped interview that Hutton "practically invented rap, dawg."
This is a tribute, not a biography, but much of Hutton's roller-coaster life is revealed, mostly in those video interviews featuring older "fans" too well rehearsed not to have been set up. Vincent and Kriger's premise is that diehard Hutton devotee DeeDee (Vincent) has brought her trio of gypsies to the office of theatrical producer Buster Heymeister (Nathan Holland, who can chew on a cigar with the precision of Zero Mostel) to get him to mount their tribute. Buster's reaction is succinct: "Listen, sweetheart, nobody remembers who she was." After the failure of his last big show, a musical version of "Mr. Ed," he's reluctant to take on anything new.
This gives DeeDee and her boys (Chad Borden, Daniel Guzman, and Justin Jones) a chance to exhibit their wares, donning puffy Ricky Ricardo sleeves and Indian headdresses to dance Lee Martino's smooth choreography and harmonize their way through the Hutton songbook under the musical direction of pianist Kriger. Winningly directed by Larry Raben and featuring a versatile set by Jeff McLaughlin that morphs from Heymeister's office to a swanky two-story art deco stage, "Nuttin' but Hutton" has a lot of somethin'. The six-piece band is lively and on the money, while Holland, Borden, Guzman, and Jones are infectious entertainers.
Vincent is a charmer, possessed of the face of Judy Holliday, the expressions of Lucille Ball, and the physique of Patti LuPone. Still, as DeeDee tells Buster, "No one can be Betty Hutton." Surviving two acts as the only principal soloist—moving like a whirling dervish and belting like Ethel Merman—is a hard job, one that takes its toll on Vincent's voice and breath control. Two or three backup girls to spell her through the evening would be a perfect addition.
Presented by Nuttin' but Hutton, LLC at the NoHo Arts Center, 11136 Magnolia Blvd., North Hollywood. March 16–April 28. (800) 595-4849, www.nuttinbuthutton.com, or www.thenohoartscenter.com. Casting by Michael Donovan.
Critic's Score: B