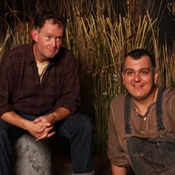 I don't know that I've ever seen John Steinbeck play like Neil Simon before. I will admit that the opening night audience seemed to respond all out of proportion to the humor that director Rebecca Marcotte had pointed up in this classic Depression-era drama, but I believe a bit of finger-wagging may be due in the direction of veteran character actor Barry Lynch in the role of the crippled ranch hand Candy. Lynch is a reliable character actor who is no stranger to the occasion nod to a florid, 19th-century acting style, but this time out he regains the 20th century with a tribute to horse opera sidekick Gabby Hayes. His commitment includes removal of a partial dental plate, the better to achieve those whistling esses.
This serves only to underscore Marcotte's problem with tone, though her pacing is faultless. Curley's Wife (Annie Abrams), who has a way of appearing attractively side-lit in doorways, never appears to be a part of the same show, and the actor plays it more as dumb chorine than as a silly, rural girl who makes the best of limited opportunities. In the leads, Sean Branney and Andrew Leman are nicely paired as Lennie and George, respectively. Branney approaches the role with simplicity and honesty; Leman, though initially more actorly, brings a weathered quality to the part and eventually comes to seem just as genuine.
Mark Colson gives particular dignity to the role of ranch hand Slim and is clearly the patrician, though not the owner, of this Salinas Valley demesne. That falls to Boss (Steven Robert Wollenberg) and Curley (Josh Thoemke), and the actors embody well the arrogance and generally unpleasant nature of the two. Gary Appel and P.J. King provide solid support in their wrangler roles. Something about Tomas Boykin's approach to Crooks, the black farm hand whose existence is almost entirely segregated from the others, struck me as a bit anachronistic, as if Boykin is commenting on, rather than personifying, the character's state. The set (David Robkin and Arthur MacBride) and lights (Michael Mahlum) are effective. Candy's smelly old dog, always a tricky one to cast, remains an offstage presence throughout.
Presented by and at Theatre Banshee at the Banshee,
3435 W. Magnolia Blvd., Burbank.
Fri.-Sat. 8 p.m., Sun. 2 p.m. Mar. 8-Apr. 13.
(818) 846-5323. www.theatrebanshee.org.