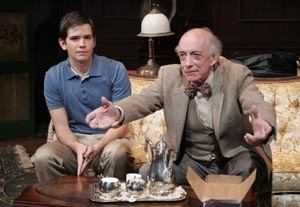 Jon Marans' two-hander, a 1996 Pulitzer Prize nominee, is set in a Vienna haunted by memories of the Nazi era and examines a momentous series of encounters between a crusty and eccentric elderly music teacher and his brilliant but reluctant young student.
California pianist Stephen (Tavis Danz) is suffering from burnout and has lost his joy in music. He has come to Vienna to study with a famous maestro to reinvigorate his playing. But the maestro has insisted that Stephen must first study the art of the accompanist with old-school professor Josef Mashkan (John Towey). Mashkan decrees that in order to understand the feelings of the soloists with whom Stephen will work, he must learn to sing a Schumann song cycle. Stephen is infuriated, regarding the task as irrelevant and a waste of time. He is also stubborn, opinionated, and rigid in his ideas and deportment. Mashkan decides that he must break down Stephen's prejudices and teach him to approach his music with humility.
Gradually, the callow student realizes that the professor has much to offer, but their relations remain combative, particularly after Stephen makes a visit to the site of the Nazi concentration camp at Dachau, near Munich, which forces him to acknowledge his Jewish roots. He blames the professor for the 20,000 Viennese Jews who perished under Hitler, and each man must confront his past and its secrets.
Marans' script is rich, subtle, and deeply literate, and Stephanie Vlahos directs with a keen eye for comedy and a sharp awareness of the emotional and musical nuances. The play makes large demands on its actors. They must not only chart the intricate interplay between their characters; they are called upon to speak and sing in German and play challenging works on the piano.
Towey is as eloquent in his silences as in his speech and acts with unforced authority. Danz provides a wonderfully prideful foil. Together they produce potent theater magic.
Stephen Gifford's handsome set captures the faded magnificence of imperial Vienna, Drew Dalzell's sound design is a vital production element, and the prop design and set dressing by MacAndME conjure the flavor of the musical life.
Presented by and at the Colony Theatre Company, 555 N. Third St., Burbank. Feb. 4–March 4. Thu. and Fri., 8 p.m.; Sat., 3 and 8 p.m.; Sun., 2 p.m. (818) 558-7000 ext. 15 or www.colonytheatre.org.