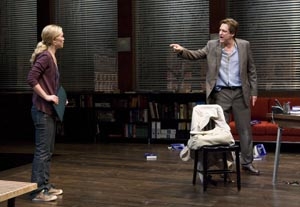 It's rare for a play that seemed highly pertinent and provocative in its time to feel even more galvanizing nearly two decades later. Playwright David Mamet has been categorized by many as a chronicler of the dark and coarse sides of the male psyche, yet in this startling 1992 work, he incisively explored a disastrous communication breakdown between a man and a woman, without assigning definitive blame. From a more global perspective, his play illuminates the dangerous human capacity for allowing emotional reactions to cloud rational thinking. Director Doug Hughes and two consummate actors provide a fresh and mesmerizing take on this seminal Mamet work.
High-strung professor John (Bill Pullman)—working at an unspecified American university and teaching an unnamed subject—is worrying about the outcome of his upcoming tenure renewal and is dealing with nagging real-estate issues. Trying to gain his attention in describing the difficult time she's having understanding and passing his course, student Carol (Julia Stiles) is a bundle of nerves. Saying he "likes her" when he finally pays attention to her concerns, the professor volunteers to work with Carol in private sessions, promising her an A grade. When she subsequently alleges that he has come on to her sexually, his personal and professional world veers toward collapse, and a fierce battle between the two seems likely to yield no winners.
These gripping conflicts lead to a thought-provoking yet far-from-tidy ending, paving the way for debates over the play's moral. Hughes allows the rhythms of Mamet's taut dialogue to build naturally, ensuring a pitch-perfect interplay between the actors, which coalesces into two compelling portraits of desperation. Pullman masterfully depicts John's slowly emerging horror as he realizes the trap he has unwittingly set for himself, and Stiles gives an intelligently layered portrayal of vulnerability intermingled with the savage instincts of a caged tiger.
Neil Patel's stiflingly symmetrical institutional set and Donald Holder's shadowy lighting underline the stark emotional terrain of the characters. This powerful production offers a profound microcosm of moral ambiguity during troubled times.
Presented by Center Theatre Group at the Mark Taper Forum, 135 N. Grand Ave., L.A.
June 5-July 12. Tue.-Fri., 8 p.m.; Sat., 2:30 and 8 p.m.; Sun., 1 and 6:30 p.m. (No performance Sun., 1 p.m., June 7.)
(213) 628-2772
.
www.centertheatregroup.org
.