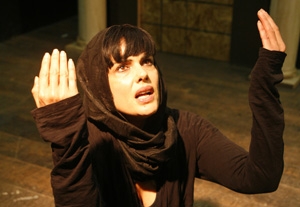 The Israeli-Palestinian conflict is rich with history, violence, and complexity. Unfortunately, playwright Stephanie Liss barely scratches the surface in her play—actually two thinly related one-acts—which explores the roots of the conflict.
The first act is a monologue by Henrietta Szold (Salome Jens), a co-founder of Hadassah who established hospitals and other social services for Jews and Arabs in Palestine. Szold describes her early years as an Orthodox Jew, her disappointment in love, and her devotion to the Zionist cause. The second act is the story of two mothers: Shula (Lisa Richards), an Orthodox Jew who lives in the settlement of Efrat, and Reim (Abbe' Rowlins), a Palestinian woman who lives in the occupied West Bank. Both women have recently lost their daughters: Shula's daughter was killed in a suicide bombing carried out by Reim's daughter. Though both stories have strong dramatic potential, Liss' writing is often plodding and pedantic, is heavily weighed down with exposition, and rarely ventures beyond a one-dimensional portrayal of her characters. The first act is a paean to an iconic figure in Israel's history but is largely lacking in dramatic tension, despite a stalwart effort by Jens. In the second act, both mothers are presented as grieving and angry, but there is little exploration of their personalities and motivations beyond the apparent political and religious slogans. Despite their tragic circumstances, it is hard to relate to these women as people.
Surely there is more drama to explore in this tragedy than Liss describes. Director L. Flint Esquerra does little to bolster the weak script. The actors seem to have been given meager guidance in developing their characters, from the deeper motivations to something as basic as the characters' accents, which wander treacherously. There is simply a lack of believability in this production, which robs it of dramatic impact.
Presented by the Met Theatre at the Great Scott Theatre, 1089 N. Oxford Ave., Hollywood. Nov. 18-Dec. 18. Fri.-Sat., 8 p.m.; Sun., 3 p.m. (Dark Nov. 25.) (800) 838-3006.