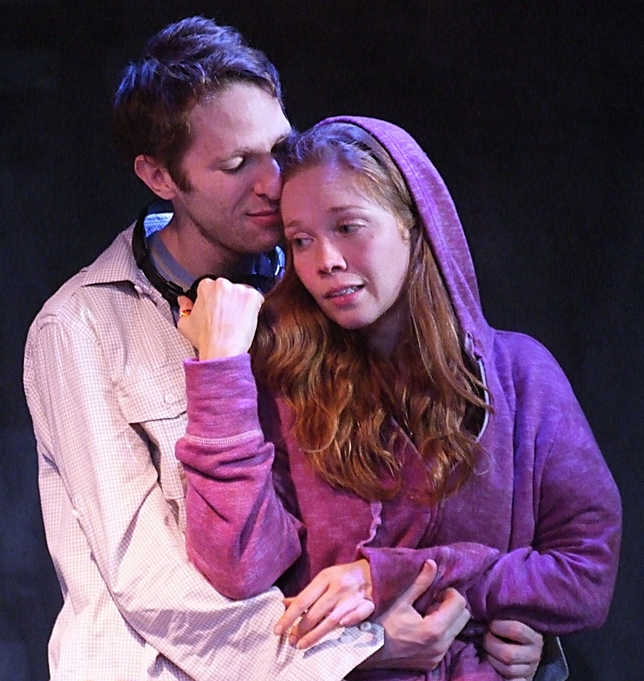 Depictions of individuals with autism spectrum disorders happily have blossomed since Dustin Hoffman's early "Rain Man" benchmark. Equally positive is the fact that playwrights such as Ken LaZebnik have returned to ASD themes in multiple plays and can attract talented actors to turn in the kinds of affecting and carefully observed performances that currently grace the Fountain Theatre's production of "On the Spectrum." Watching the beautiful work of Virginia Newcomb and Dan Shaked Iris and Mac, two challenged young people trying to negotiate something resembling first love, is witnessing a flag being planted for hope, sensitivity, and artistic progress. The production that director Jacqueline Schultz surrounds them with ain't shabby either.
The line between hope and fantasy can be a tenuous one, however. "On the Spectrum" is constructed around a rather enormous leap of faith: We're asked to accept that Iris, a woman so trapped by her disorders that she can neither control the tics of her own body nor leave her apartment, can exist as a very different being online and via technology. Once she "meets" the right person—in this case the higher functioning Mac, who has Asperger's—Iris can be, if not cured, perhaps unlocked. It's a tough sell, but to Newcomb and Shaked's credit, at the conclusion of the 90-minute show you might get misty-eyed and dubious simultaneously.
Iris runs a website called "The Other World," a fantastical realm with gnomes, trains, and talking badgers that unfortunately has mediocre graphics. She places a want ad for a designer and hires Mac, a computer whiz about to apply for law school who needs his first part-time job because his mother, Elisabeth (Jeanie Hackett), has lost her photo-editing income. The two start an online flirtation in ways that people who don't easily understand social nuances might indeed flirt—or maybe not. As a normal-sounding voice speaks Iris' dialogue (she talks via a computer), we see the woman herself twitching, quivering, humming, and grunting. Mac, on the other hand, is close enough to being neurotypical that his law-school application will offer no mention of any disability; Elisabeth has raised him not to be put into boxes. Iris knows she has limitations and is proud of them, but she's also desperately lonely.
In Shaked's performance Mac's quirks manifest in utterly believable ways, and his obsessions and needs are presented with charisma and humor (love the yak bells monologue). Newcomb's work, while showier, also feels carefully researched; in a way she's playing two different characters. Hackett, a veteran of L.A.'s classical Antaeus company, delivers a nice bit of real-world grounding as concerned mom Elisabeth.
Jeff Teeter's video and John Iacovelli's scenery creatively take us into Iris' "Other World," while LaZebnik, Shaked, and Newcomb help advance the illusion that such a world is possible. If you've ever known someone like Iris, any such hope is worth its weight in microchips and gigabytes.
Presented by and at the Fountain Theatre, 5060 Fountain Ave., L.A. March 16–April 28. (323) 663-1525 or www.fountaintheatre.com.
Critic's Score: B+