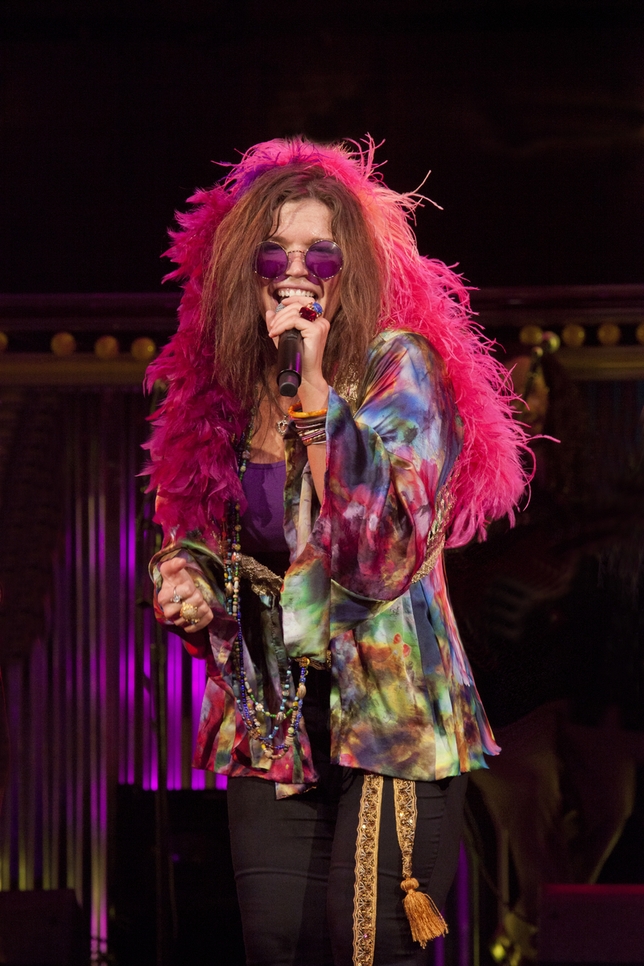 For anyone old enough to remember the unearthly Queen of Rock 'n' Roll, "One Night With Janis Joplin" will make the past 40-plus years melt like a grilled cheese sandwich in a microwave. Presented as Joplin performing in concert, the show will teleport boomers and latter-day Joplin fans alike back in Marty McFly's DeLorean to the glory days of the Fillmores East and West.
Even before dead ringer Mary Bridget Davies takes the Pasadena Playhouse stage in costumer Jeff Cone's feathered and beaded Joplinesque finery, that golden epoch is impeccably evoked by Justin Townsend's set and lighting. Re-creating a rock venue of the time, with the Playhouse's rococo proscenium camouflaged by massive amounts of billowing tulling and lit from within by psychedelic bursts of color, all that's missing is the smell and smoky haze of funny cigarettes endemic to the era.
It's a given that almost anyone who saw the legendary singer perform live says that the experience was one of the musical highlights of his or her youth. Davies doesn't just play Joplin; she channels her. Physically, at least from the distance between the stage and the audience, it's as though "Pearl" herself has resurrected. Davies not only finds Joplin's wailing, raspy vocal styling; she conjures her posture and wrenchingly pleading gestures while singing, smoky laugh, and bullhorn speaking voice.
Thanks to creator-writer-director Randy Johnson's remarkable effort to bring a legend to life, Davies doesn't only perform the singer's most enduring hits, including "Piece of My Heart," "Try," and "Mercedes Benz." She also sits in a comfortable wing chair recalling Joplin's early middle-class upbringing in Port Arthur, Texas, looking back to when her head exploded while listening to her early musical heroes for the first time. "There was something about that ache that got me bad," she tells us. "After all, the blues is jus' a bad woman feelin' good."
As Joplin remembers the musical pioneers whose passion took over her life, the stage is periodically graced by the equally mind-blowing Sabrina Elayne Carten, who appears as Etta James, Nina Simone, Bessie Smith, Odetta, and Aretha Franklin, among others. First, however, she plays Leontyne Price singing "Summertime," a performance Janis' musical theater–obsessed mother introduced her to with the movie soundtrack album from "Porgy and Bess." After Carten sings a number, Davies performs the same song as Joplin. It is simply one of the most amazing and emotional experiences offered on any Los Angeles stage so far this year.
Davies and Carten are flawless, further aided by a dynamic trio of backup singers (Tricia Kelly, Shay Saint-Victor, and Kimberly Yarbough) and a knockout onstage band, featuring thrilling solo work by Stephen Flakus on guitar, Patrick Harry on bass, Tyler Evans on keyboards, and Mitch Wilson on drums. During the show Joplin offers an explanation for her intense hunger to share and her electrifying, too-short career: "Music says, 'Wait a minute; I can do anything.' " This stellar production is testament to that.
Presented by Pasadena Playhouse, in association with One Night Productions, the Estate of Janis Joplin and JAM, at Pasadena Playhouse, 39 S. El Molino Ave., Pasadena. March 17–April 21. (626) 356-7529 or www.pasadenaplayhouse.org.
Critic's Score: A