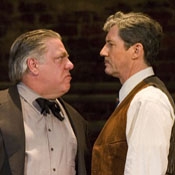 Juicy backstage dramas can provide tremendous fun in satirically deconstructing the glamorous façade of show business, revealing the clashing egos, rivalries, and crippling insecurities that can accompany the creative process. Austin Pendleton's literate and wonderfully entertaining 2000 comedy takes a speculative behind-the-scenes look at a real-life theatrical production of Eugene Ionesco's Rhinoceros in 1960 London. Director Dámaso Rodriguez helms an intelligent and hilarious rendition of Pendleton's irresistible valentine to the theatre, beautifully seasoned by moments of rueful reflection.
Revered actor Laurence Olivier (Charles Shaughnessy) and jack-of-all-trades visionary Orson Welles (Bruce McGill) butt heads as they rehearse the play, directed by Welles and co-starring Olivier's fiancée, Joan Plowright (Libby West). Each man is fearful of living up to past career glories, and they harbor resentments from their earlier conflicts. To stir the pot and to provide a fourth-wall-breaking narrator, Pendleton adds British critic Kenneth Tynan (Scott Lowell), imagining him as the person who brought the two men together for the National Theatre production. There's also a fictional visit by Olivier's then-estranged wife, actress Vivien Leigh (Sharon Lawrence).
Rodriguez's marvelous ensemble offers finely shaded portrayals. The actors playing real-life characters do a bangup job of capturing the essence of the colorful individuals who are so ingrained in our minds. McGill's Welles is a pitch-perfect impersonation of this larger-than-life figure, and Shaughnessy's Olivier is as dashing and sophisticated as we expect, while he captures the indulgences of a man dealing with personal travails and the pressure to maintain a professional status quo. West excels in her engaging portrait of a rising star, anchoring the tumultuous goings-on as a not-yet-jaded member of the high-strung theatrical community. Though the shoe-horning of Leigh into the proceedings feels contrived, Lawrence captures her grace and glamour. Lowell does splendid work as the wheezing, flippant, and erudite Tynan. Nick Cernoch offers first-rate support as the young Irish stagehand somewhat overwhelmed by it all.
The atmospheric design elements are top-notch, highlighted by Gary Wissmann's set, Mary Vogt's costumes, and Dan Jenkins' lighting. With this stylish and enthralling production, Rodriguez makes an auspicious debut as the Playhouse's associate artistic director.
Presented by and at the Pasadena Playhouse,
39 S. El Molino Ave., Pasadena. Tue.-Fri. 8 p.m., Sat. 4 & 8 p.m., Sun. 2 & 7 p.m. (Also Wed. 2 p.m. Feb. 6. Dark Sat. 4 p.m. Jan. 12, Tue. 8 p.m. Jan. 15 & 22, Wed. 8 p.m. Feb. 6 & 13.) Jan. 18-Feb. 17.
(626) 356-7529. www.pasadenaplayhouse.org.