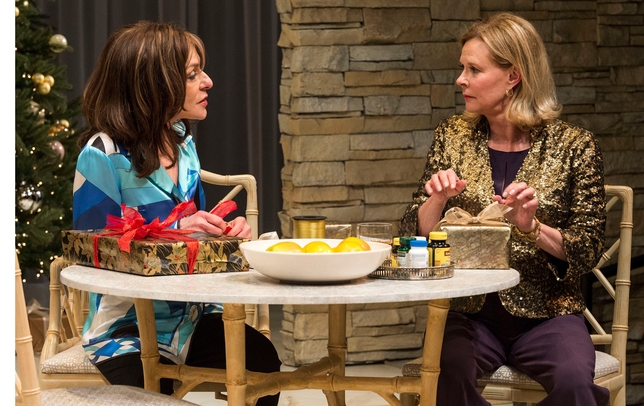 You're inclined to forgive a significantly talented playwright when he delivers an everything-but-the-kitchen-sink opus, provided that the bloat falls away and the substance shines through. So it goes with "Other Desert Cities," a decorated—if messy—family drama by Jon Robin Baitz. Having already played Lincoln Center and gone to Broadway, "Other Desert Cities" now arrives on the West Coast at the Mark Taper Forum. The Taper—producer of five previous Baitz plays—is friendly territory, and this production is at least the third of the author's work directed by former Center Theatre Group producing director Robert Egan.
What should be a perfect storm, alas, isn't. Working with watchable and often affecting material, Egan and his cast of five feel like they're trying to wrestle two or three disparate plays into a shapable entity. Despite a career-stretching performance by JoBeth Williams and strong work by the consistently reliable Robert Foxworth, "Other Desert Cities" doesn't earn its payoff. This is more the playwright's misstep than the production's.
It's too easy to lose patience with the Wyeth family and their skeleton-stuffed closets before you grow to embrace them. In Polly (Williams) and Lyman (Foxworth), we meet wealthy scions of the West Coast GOP. He was an actor; she, a teacher. They dined with Ronnie and Nancy and now—in 2004—fully support Bush Jr.'s war in Iraq from their sanctuary in Palm Springs. On Christmas Eve the family is united, as daughter Brooke (Robin Weigert), a liberal novelist, has returned from New York, and reality-TV producer son Trip (Michael Weston) is in from L.A. The gathering sours. Brooke's latest work is a piece of nonfiction, a tell-all account of a dark family deed involving deceased second son Henry. Brooke wants her folks' blessing to publish it.
Baitz is steering us to a family reckoning and exposed secrets, but along the way his characters take so many potshots at Republicans and their values that the play nearly careens into drawing-room-comedy territory. Not helping matters is the presence of Polly's sister, Silda, a recovering alcoholic and a key player in the publishing debate, who Jeannie Berlin makes more of a sketch than she should be. When not cracking wise, Brooke and Trip spend significant time defining their positions, impeding the creation of character. Weigert works through a lot of emotions; this should be Brooke's play, but Weigert can't find the balance between conflicted and self-righteous. Weston, when not declaiming, holds his own. His Trip is probably the best-adjusted of the whole Wyeth clan.
Williams and Foxworth, on the other hand, break free of the WASPy veneer. After a career of playing nurturers, Williams shows layers of steel and uncompromising hardness in Polly that this critic didn't know she possessed. Taking on an actor and political creature in the vein of Ronald Reagan, Foxworth is a more-than-effective co-anchor. The two are a pleasure to watch.
The work could serve them better. Still, "Other Desert Cities," by no means its author's best, is never dull. Nobody can kill a Christmas Eve like Baitz.
Presented by Center Theatre Group at the Mark Taper Forum, 135 N. Grand Ave., L.A. Dec. 9–Jan. 6. (213) 628-2772 or www.centertheatregroup.org. Casting by Erika Sellin.
Critic's Score: B