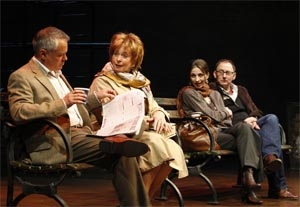 A comedy with dramatic undertones, this premiere staging showcases Richard Greenberg's sophistication as a playwright, from his smart dialogue to the way the story jumps from the present day—as adult twins Seth (Arye Gross) and Abby (Marin Hinkle) visit their elderly mom, Anna (Jenny O'Hara), in the hospital—to 1973, when mom embarked upon an extramarital affair with charming widower Phil Weintraub (Matthew Arkin). Most distinctive is how the play telescopes an entirely separate story line into the 1973 flashbacks, one rooted in the infamous Rosenberg spy case of the 1950s. The play shows the inexorable weight of cause and effect: What happened to Phil in the 1950s affects Anna's affair with him; her affair, in turn, affects Seth and Abby, who are also changed by their indirect connection with a pivotal episode of 20th-century American political history.
Pam MacKinnon's staging keeps things lean and spare, her ensemble cast functioning comfortably as five organic, interlocking elements (Arkin also, briefly yet brilliantly, plays Anna's hotheaded husband). Using multiple narrators, and owing to Anna's propensity to overdramatize, Greenberg's fluid storytelling style is
Rashomon
-like. O'Hara is less charismatic than one might have hoped for, her portrayal of Anna as a flighty goofball seemingly better suited to sitcom than to this play. Though she's off by a beat or two dramatically, O'Hara's comedic timing is letter-perfect, and she easily handles Anna's sudden transitions from amusingly illogical to cranky and venomous. As comfortable with their roles are Gross as Seth, a gay newspaper obituary writer, and Hinkle as Abby, a lesbian mom about to leave her life partner. Greenberg erases any recognizable gay or lesbian stereotypes from these roles, leaving Gross and Hinkle with the siblings' quick wits when trading gentle barbs. Arkin's slight lisp and disarming manner make Phil an unassuming, likable, middle-aged widower who may or may not have catalyzed one of America's most controversial, and traumatic, episodes.
Presented by and at South Coast Repertory, Segerstrom Stage, 655 Town Center Drive, Costa Mesa. April 11–May 3. Tue.–Wed., 7:30 p.m.; Thu.–Fri., 8 p.m.; Sat., 2:30 and 8 p.m.; Sun., 2:30 and 7:30 p.m.
(714) 708-5555 or
www.scr.org
.