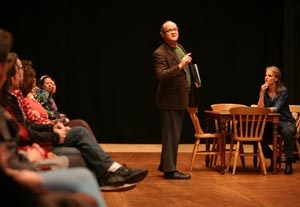 It's not surprising that Thornton Wilder's "Our Town" has endured as a staple of the American theater repertoire for more than 70 years. In an era in which daily news broadcasts trumpet calamitous domestic and worldwide woes, Wilder's reaffirming portrait of the core values of life seems more important than ever. In its L.A. premiere, director David Cromer's immensely entertaining and deeply affecting revival is vibrantly fresh yet faithful to the playwright's enduring vision.
Wilder's deceptively simple dramaturgic conceit supports a moving portrait of the lives of some archetypal small-town citizens in fictional Grover's Corners, N.H., in the early 1900s. In stripping away most theatrical conventions—stage lights, scenery, period costumes, regional accents—the fourth wall is obliterated, and the unfolding drama becomes uncommonly intimate. Presented in the round in the Broad Stage auditorium, with the actors in close proximity, this staging maintains a wonderful spontaneity and immediacy.
Many actors from the director's prior renditions in Chicago and Off-Broadway are on board here, alongside others new to the production. Cromer elicits portrayals brimming with humor, heart, and intelligence, and the ensemble interplay is seamless. With utter conviction, these actors illuminate the everyday concerns that drive the Grover's Corners citizens during times of optimism and joy, as well as tragedy and despair.
We are fortunate to have Helen Hunt reprising the crucial role of the Stage Manager, in an inspired bit of gender-blind casting. She
played the role briefly Off-Broadway
. Ideally balancing a no-nonsense tone of efficient narration with scattered instances of humor and emotional investment in the story, she's the ideal guide to the unfolding adventures. Tim Curtis also stands out in his wryly funny portrayal of Editor Webb, head of the local newspaper and father of teenage Emily (a heartbreaking Jennifer Grace). As the family's loving matriarch, Kati Brazda is amusing and endearing. The youthful exuberance of Emily's neighboring beau, George Gibbs, is delightfully captured in James McMenamin's characterization.
One climactic scene in which Cromer daringly departs from the play's traditional staging pays off magnificently. The details are best kept a surprise. Flashes of Wilder's brilliantly surrealistic "The Skin of Our Teeth" ran through my mind during this production, crystallizing in this haunting segment. Cromer's alternately heart-wrenching and uplifting production strips the notion of the American dream down to the values of family, home, and love and a celebration of life's wonders. Capitalizing on Wilder's powerful imagery, themes, and poetic text, Cromer's production is a godsend.
Presented by KRCW at the Broad Stage, 1310 11th St., Santa Monica. Jan. 18–Feb. 12. Tue.–Sat., 7:30 p.m.; Sat. and Sun., 2 p.m. (310) 434-3200 or www.thebroadstage.com.