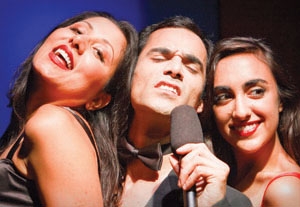 Charles L. Mee's plays are wildly various, ranging from skewed classics to seemingly formless improvisations. Here, a depressed young man, Benny (Kenneth Rudnicki), arrives at a bizarre amusement park, seeking an escape from his arid existence. The park has a weird array of denizens, including a circus clown (Troy Dunn); a philosophical ventriloquist (Ann Stocking) and her dummy (David E. Frank) who is half man and half woman; a wandering violinist (Lena Kouyoumdjian); an embattled married couple (Bo Roberts and Cynthia Mance), who wear matching T-shirts that proclaim "Kiss my ass, I'm on vacation," and their nubile daughter, Darling (KC Wright); a Latino transvestite (Tim Orona) who's pursued by Darling; Ella, a girl from the Midwest (Reha Zemani); and a psychotic pizza-delivery man (Jeff Atik, who also appears as a Sugarplum Fairy and a Giant Chicken).
The structure of the piece seems more musical than logical: Each of the oddball characters gives voice to his or her obsessions and existential angst, indulges in wild flights of fantasy, or adumbrates a philosophy. Benny is attracted to Ella, but they can neither separate nor come together. The Ventriloquist delivers a paean to the theater as pursuit rather than escape, and the Pizza Guy ponders the nature and possibility of forgiveness. The recurring ideas hinge on the need for kindness and love—surely irreproachable sentiments. But an audience might long for a logical pattern or a structure that might contain the ever-multiplying ideas. The piece is always interesting to watch, but at times it seems merely a grab bag of ideas, made palatable by the circus-vaudeville atmosphere.
Director Frederique Michel is a formidable director, lending imperious authority to everything she does. Designer Charles A. Duncombe creates a stunning visual setting. All the actors are accomplished and well-rehearsed. Ann Stocking shines as the Ventriloquist, plumbing unexpected emotional depths. Dunn is a wonderfully quizzical clown, and Orona is intriguing as an incomprehensible character, turning up in feathery black angel wings. And in a manic finale, the entire cast performs a rollicking, ever-accelerating circus parade.
Presented by and at City Garage, 1340-1/2 Fourth St., Santa Monica.  Sept. 17–Nov. 7. Fri.–Sat., 8 p.m.; Sun., 5:30 p.m. (310) 319-9939.