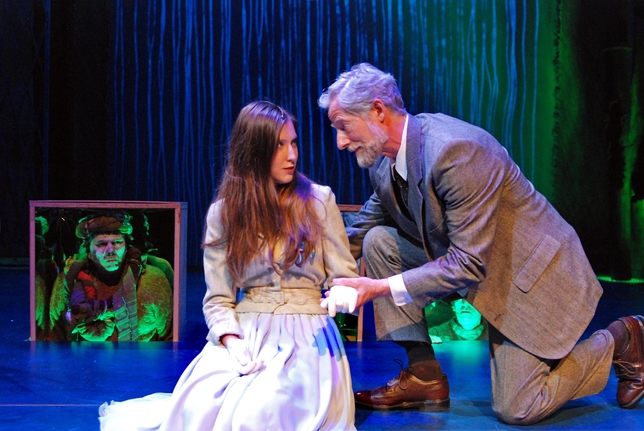 There's no question that Sarah Ruhl's "Eurydice," a 2003 version of the tragic myth, was cathartic for the playwright, who wrote it in an attempt to deal with the death of her father. In a sense, the Eurydice on stage is Ruhl and the character known simply as "Her Father" is indeed not Eurydice's, but Ruhl's own. As an exercise in personal nostalgia and a way to try to bridge the gap between the living and the dead the play is interesting, but as the material for drama, it's not especially promising or compelling.
If you view this "Eurydice" as a gentle, delicate poem of a very personal nature, let it wash over you, and take note of the succession of sights and sounds it generates, you'll likely enjoy following the titular character (an outstanding Carmela Corbett) from happiness with lover and future husband Orpheus (Alex Knox) to her journey to the Underworld and seeing her reunite with her long-dead father (Timothy Landfield, pictured with Corbett), while an increasingly frantic Orpheus tries to find her. Ruhl's father loved words and once a week would teach her and her sisters a new word and its etymology. Such a scene is re-created here; Ruhl views language as the product of vague constructs with abstract meaning, and uses words like a poet, or the way a composer uses notes. There is also something of Lewis Carroll, Wonderland, and Jabberwocky in Marc Masterson's staging; Corbett's Eurydice emits vibes similar to Alice. Even before she enters the Underworld, her universe is a strange one that's of constant disappointment to her, causing her to search for significance and answers all around.
Throughout, Masterson creates a delicate tone that's tinged with both quiet joy and understated, unmistakable sorrow. What he and scenic designer Gerard Howland, costume designer Soojin Lee, lighting designer Anne Militello, and sound designer Bruno Louchouarn have wrought is often lightly humorous yet strange—like a bad dream or a vague, disquieting memory. That makes Corbett's work as Eurydice and her interaction with Landfield all the more crucial to the play's success, precisely because its outlines are so fuzzy.
At her most basic, this Eurydice is a proper, undemanding, and uncomplicated young lady who is also intelligent and analytical, wishing only to have her happiness fulfilled by two men: the living Orpheus and her dead father. Yet as focal as Orpheus is to this tale, Knox can do only so much with a role that has been subjugated to make room for daddy. He shows that though the young man worships Eurydice, she will always take a back seat to his music, which takes him far away from her even when they're alone together. Landfield etches his character as nurturing and deeply emotional yet quietly restrained, as if he were suppressing memories of sad events and people. The play certainly delivers much food for thought regarding love, life, and death, even if it does so in a nonsensical, otherworldly fashion.
Presented by and at South Coast Repertory in association with honorary producers Tom and Marilyn Sutton, 655 Town Center Dr., Costa Mesa. Sept. 28–Oct. 14. (714) 708-5555. www.scr.org. Casting by Joanne DeNaut.
Critic's Score: B-