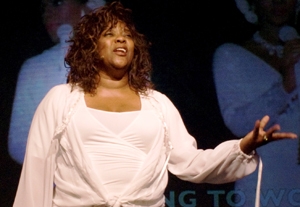 Loretta Devine, author and performer of this solo show, has had a remarkable career, on Broadway ("Dreamgirls"), in movies ("Waiting to Exhale," "Crash," "Dreamgirls"), and on television ("Boston Public," "Grey's Anatomy," "Picket Fences"). With this production, she turns her hand to writing her own material. The show is subtitled "Poems, Songs, Music, and Movies," but whether she's singing, speaking, or acting, Devine is a born storyteller. She tells us about growing up in Houston in a house of women, including her mother and grandmother, and about her absent father, who divorced her mother and married another woman on the other side of town. And she tells us about a high school talent contest, where to her surprise she was eliminated before the finals. But, determined and undaunted, she snuck her name onto the list of finalists—and went on to win the contest.
Most of her songs and stories are about the ways and permutations of love and lust, in tones that vary from wry and rueful to joyous and exuberant. In "The Wife's Why," a woman's discovery of evidence of her husband's infidelity proves liberating. "Anita Is Asleep" tells the tale of a man who procrastinates telling his wife that he has contracted AIDS from an extramarital affair—and ends with the shout "Anita, Wake Up!" And in "Sweet Sixteen," she sings about the L.A. boy who loved and left the girl—but when he turns ups on TV, she brags, "That's my baby-daddy!"
Devine's voice is honey-sweet, and her delivery is relaxed and spontaneous, ranging easily from earthy comedy to bittersweet reflection. But one wishes she'd trusted her material and her talent more, instead of relying on external trappings. The busy instrumental arrangements and near-constant underscoring sometimes compete with her performance. And the slideshow that runs throughout the performance can become distracting. We're treated to family pictures, abstract patterns, flower photographs, photos of Devine's clothing designs, and snapshots of her with co-workers, from Michael Bennett to Morgan Freeman and Fyvush Finkle. The photos are interesting enough, but sometimes they steal attention from her words.
Presented by Devine Devine Entertainment at Stage 52, 5299 W. Washington Blvd., L.A. Sept. 18–Oct. 3. Sat., 8 p.m.; Sun., 3 and 7 p.m. (323) 960-7780. www.plays411.com/lorettadevine.