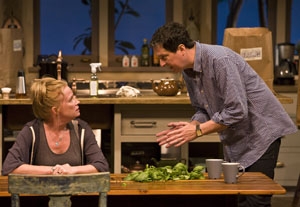 A bare-bones synopsis of Theresa Rebeck's world-premiere play recalls the premises of other works about marital warfare and midlife crisis, particularly "God of Carnage" and "Who's Afraid of Virginia Woolf?" Such thoughts quickly vanish as Rebeck's bracingly original dramedy starts springing its delicious surprises. The smart and subtly subversive script ponders the moral dilemmas that surface in relationships, weighing society's rigid definitions of our responsibilities to loved ones alongside our quests for personal fulfillment—the battle between selflessness and selfishness. Doug Hughes' rock-solid direction and four finely calibrated performances capture the raucous hilarity and profoundly sad undercurrents of this incisive work.
The setting is almost archetypal—a weekend in the country, such as in a Noël Coward romp or a wistful Ingmar Bergman roundelay. The lavish vacation residence, in an unspecified town, serves as a hotbed of tension for two married couples, where suppressed longings and resentments—and intimations of adultery—unexpectedly arise. Clearly the couples are affluent, and neither seems too concerned with customary social graces. Confrontational exchanges explode from the first scene as Ella (Johanna Day) and the overbearing Ian (Reg Rogers), the British husband of the histrionic Maureen (Sharon Lawrence), engage in a prolonged argument about cultural and religious issues. Maureen desperately tries to change the subject with small talk, while Ella's husband, Peter (Christopher Evan Welch), primarily stays out of the fray. Misunderstandings multiply and manipulation fills the air, leading to fateful consequences for these marriages, peppered with thought-provoking enigmas.
Rogers brilliantly fleshes out the role of an apparently unscrupulous man, yet one who sincerely believes he's doing what will be best for all concerned. Lawrence's immensely heart-rending portrayal makes a strident character sympathetic; it's fascinating to see a seemingly weak-willed individual fighting like a tiger at key moments. Welch superbly conveys Peter's futile attempts at being a calming influence, and the almost euphoric release when this man submits to the escalating madness, releasing his fury on a bundle of garden vegetables. Blessed with some of the funniest lines, Day is a master at bringing out the irony in her dialogue, as her deadpan retorts earn gales of laugher.
John Lee Beatty's sprawling brown-dominated set superbly expresses the materialistic values that can't make up for the characters' unfulfilled lives. His efforts dovetail perfectly with Catherine Zuber's costumes, Ben Stanton's lighting, and David Van Tieghem's original music and sound design.
Presented by Center Theatre Group at the Mark Taper Forum, 135 N. Grand Ave., L.A. Sept. 18-Oct. 16. Tue.-Fri., 8 p.m.; Sat., 2:30 & 8 p.m.; Sun., 1 & 6:30 p.m. (213) 628-2772. www.centertheatregroup.org.