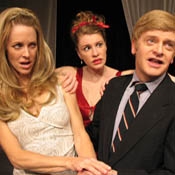 Damn those desperately clever playwrights who are one step ahead of the audience. They choose to write plays that are simultaneously self-congratulatory and self-deprecating, and definitely on top of the critics, going above and beyond to call their work what it is, pretty much as soon as the curtain rises. We're talking about A.R. Gurney here, who is an active -- albeit quite dead -- character in his newest play, a delightful diversion crammed full of fond, knowing theatrical references and sharp, satisfying political barbs.
The play opens as a lecturer in a faith-based state university in America's heartland reads to herself from a long-banned, deeply heretical playwright: Tennessee Williams. The year is 2015, and Big Christian Brother is everywhere. Focus on the Family has a strong grip on the nation, campus Scientology clubs are thriving, and essays on evangelical comedy are the academic challenge of choice in the drama department. But one very pushy student (Alan Bruce Becker) approaches his teacher (Anna Nicholas) with a bold idea for a master's thesis: A forgotten, seemingly insignificant playwright -- right, Gurney -- whose unproduced, unpublished, and long-thought-lost masterpiece, titled of course Post Mortem, written just before his mysterious death in the Bush-Cheney era, could've, well, changed everything. And we mean everything.
Director Jered Barclay's stylistic hand is evident from the start, and it takes a bit to adjust to the rather freakish Becker's heightened performance, as his character attempts to seduce Nicholas' striking and nuanced adviser with the lure of dangerous drama; plus, the exposition and in-jokes grow a tad tiresome despite Barclay's tight pacing and smooth staging. However, all the setup in the play's first half pays off when we see teacher and student some 10 years later, a big-time celebrity couple, thanks to that genius Gurney and his seminal tome. As a starry-eyed student (an absolutely hilarious Andrea Syglowski) explains, the pair and the play have indeed become responsible for significant changes around the world. Much fun is had by all as the trio of strong performers speaks directly to the adoring, university audience -- that's us -- and the playwright manages to move beyond one-liners to touch upon the nature of art, the responsibility of an artist, and the tragedy of modern cell phones. Oh, it never gets all that deep, which is just as well. An after-death experience like this is a lovely way to spend an evening.
Presented by Insight America at the Lyric Hyperion Theater Café,
2106 Hyperion Ave., Silverlake.
Fri.-Sat. 8 p.m., Sun. 3 p.m. Jan. 11-Mar. 2.
(800) 595-4849. www.insightamerica.org.