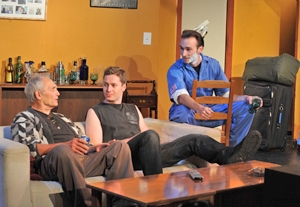 Donavon Thomas' new play attempts to take a hard-hitting look at post-traumatic stress disorder. The story's backdrop is the Iraq War, depicting the attempts of two discharged soldiers to re-assimilate into civilian life in an unspecified U.S. town. Thomas' play is intermittently intriguing, but it fails to parlay its melodramatic plot developments into a coherent thematic statement.
Returning from the war, Michael (Thomas) moves into the apartment of his military buddy Chuck (Nathanyael Grey), who has secured a job for Michael at the firm where Chuck works as an emergency medical technician. The breezy camaraderie of the early scenes gradually becomes strained after neighbor Autumn (Jamie Renee Smith) enters the scene. Chuck and Autumn had previously attempted a romance that never got off the ground. Before you can bat an eyelash, Michael and Autumn are going at it on the living-room sofa.
The play starts out well, establishing a palpable bond between Chuck and Michael. Thomas is engaging and appealing; his droll sense of humor provides welcome levity. Grey is likewise a resourceful actor, bringing interesting shadings to his portrayal. David Pantsari offers able support as Chuck's concerned father. A hilarious Halloween scene in which Grey's macho character decks himself out in drag as a streetwalker is amusing and helps to accentuate the playful fun in the men's friendship before it turns sour. Yet the contrivances surrounding Michael and Autumn's capricious actions and the repercussions thereof lack credibility. Furthermore, the dialogue's glib small talk often feels superfluous. Thomas' script would benefit from aggressive trimming, and director Timothy Gagliardo should keep a tighter rein on the proceedings. By the time the story reaches its histrionic climax, it feels like a predictable TV-movie potboiler, losing sight of its loftier thematic aims. Andrew Adams' atmospheric production design deserves a salute.

Presented by Loaded Dice Films at the Flight Theatre at the Complex, 6476 Santa Monica Blvd., Hollywood. Nov. 12–Dec. 20. Thu.–Sat., 8 p.m.; Sun., 7 p.m. (323) 960-7740. www.plays411.com/post.