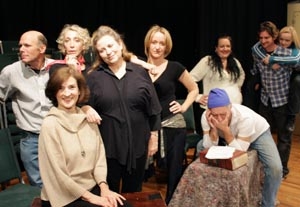 Any family has stories—and secrets. And, let's face it, it's all material for a writer. But a writer in a family of 17 kids? That's the jumping-off point for Rochelle Duffy's intensely personal tale of growing up in Duarte, Calif., and discovering herself as a writer years later through her correspondence with her incarcerated brother and conversations with her adult siblings.
Director Debra De Liso's decision to keep the playwright—who is not an actor—onstage as narrator pays off in many respects. Duffy is somewhat of a naif; her presence is wholly unpretentious, and the construction of this emotional theatrical journey is often refreshingly raw. The play is obviously a labor of love, and De Liso has assembled a large ensemble cast (unfortunately missing two members at the performance reviewed) of varying skill levels who take on the characters of sons and daughters, brothers and sisters, offering different insights into the piles of dirty laundry of this multigenerational household during the 1940s–'60s that take us beyond the smiling Christmas card photos: molestation by their family priest, their "black sheep" brother's descent into drug abuse and crime, their dad's violent temper, and their seemingly always pregnant mother's suicide attempts. Deborah Berman, Brad Kahn, Stephanie Roche, Louise Martin, Ramon Ramirez, Michael Karan Tomsu, and Brendan Shanahan—especially effective as the youngest sibling not afraid of his own anger—do an admirable job here. De Liso's simple staging provides a cohesive flow.
Most successful, at times stunning, are Duffy's interactions with her brother Patrick (John Marzilli) while he is in prison. Reading from Patrick's real-life letters, Marzilli's broken man recounts dreams of devils, betrayals, transformation, and trying on words like clothing. This connection provides a sort of salvation for the two siblings, and that's at the heart of the work. With spotty technical aspects and Duffy's apparent lack of training, this is not at all a slick package. Then again, it's not meant to be. Who has time for pretty wrapping with 17 kids?
Presented by Saipro at the Carrie Hamilton Theatre at The Pasadena Playhouse, 39 S. El Molino Ave., Pasadena. Nov. 19-Dec. 18. Fri.-Sat., 8 p.m.; Sun., 2 p.m. (626) 356-7529. www.pasadenaplayhouse.org.