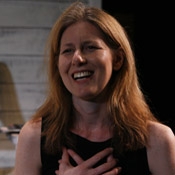 The proof of the title is a strictly literal one -- for mathematicians, though not necessarily for those of us more involved in the quotidian. David Auburn's play sugarcoats the subject by rearranging the old staple: Boy meets girl, boy falls for girl, boy doubts girl's ability, boy loses girl, girl is being reprogrammed by domineering sister, boy saves girl from metaphorically throwing herself under a train. That's a rude simplification, but it seems Auburn's purpose in using esoteric math as the heart of the play is to reduce sentimentality. Because the conversations about mathematics flash by incomprehensibly, most of what remains is sentiment -- which is not a bad thing.
Catherine (an effective and affecting Abigail Rose Solomon) is the genius daughter of the late Robert (a gruff-tender Greg Mullavey), a distinguished mathematician, who still looms large in Catherine's consciousness. Catherine's future has been usurped by her job as caregiver to her father, his oeuvre, and his reputation. Claire (a lusty Ariana Johns), her elder sister, returns home to take care of the family estate and the depressed sibling. Catherine fears she may be heir to Robert's long-term debilitating disease along with his genius. Hal (Micah Freedman), an adoring student, ostensibly doing mathematical research, is not totally honest about his intentions. His constant presence in the house forewarns of an inevitable situation.
The action occurs on the back porch of the family home (well-designed by Adam Blumenthal) on Chicago's South Side. Director Elina de Santos makes good use of the setting, though when the actors move from center stage, much of the vocal clarity is lost. Freedman needs to crisp up his enunciation in the intimate scenes, played stage left, which are also missing any romantic urgency. Solomon is the lovely waif in dubious charge of the situation and herself but pulsatingly sad at soul's level, crying out for understanding. Mullavey serves the play well, as does Johns in the thankless role of the take-charge Claire.
Presented by Rosalind Productions Inc. in association with QED Productions at the Odyssey Theatre,
2055 S. Sepulveda Blvd., L.A.
Thu.-Sat. 8 p.m., Sun. 2 p.m. May 3-Jun. 1.
(310) 477-2055. www.rosalindproductions.com.