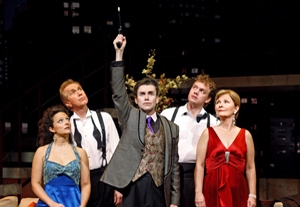 From Matt McGrath's amusing exhortation to the audience to behave properly, in a song from "The Frogs," to Harry Groener's poignant "Old Friends" from "Merrily We Roll Along," the five-member cast of Stephen Sondheim's musical "review" conveys the necessary talent and passion required to dramatize the composer's songs. The story is simple enough: An older couple (Groener, Mary Gordon Murray), a younger, soon-to-be couple (Dan Callaway, Niki Scalera), and an urbane young man (McGrath) are at a black-tie party in a Manhattan skyscraper. As the event progresses and everyone drinks a little too much, intimate secrets emerge as the characters confront their lives and ambitions.
First presented in 1993, the production links selections from some of Sondheim's hit plays into a loosely created story. Making that work is difficult, but director Nick DeGruccio's facility for choreographed staging and his innate sense of theater help these actors elevate the work from clichéd to memorable. The actors have well-trained voices easily able to handle Sondheim's tricky lyrics and complicated melodies.
Groener and Murray acquit themselves well as the glamorous, world-weary couple who act as a foil for the younger Scalera and Callaway. McGrath also shines as the jaunty observer whose insights stand apart from the couples' narratives. From the sparkling, energizing opening to the sadder and wiser ending, the actors make believable their characterizations.
Notable songs include Murray's "Could I Leave You?," Callaway's "Marry Me a Little," and the couples' quartet "Being Alive." Audience favorites were Murray's "Getting Married Today" and McGrath's "I Could Drive a Person Crazy."
Dennis Castellano's music direction is superb, and the combo of Castellano, John Glaudini, John Reilly, and Louis Allee invest the show with an orchestral sound. Thomas Buderwitz's gorgeously glamorous set design adds considerable dimension to the story line, and Steven Young's lighting and Drew Dalzell's sound round out the fine tech. Singers can often deliver music in a pleasant manner, but it takes fine direction and acting chops to elicit an emotional response from the audience. This show succeeds in all areas.
Presented by and at South Coast Repertory, 655 Town Center Drive, Costa Mesa. Sept. 19–Oct. 11. Tue.–Wed., 7:30 p.m.; Thu.–Fri., 8 p.m.; Sat., 2:30 and 8 p.m.; Sun., 2:30 and 7:30 p.m. (714) 708-5555. www.scr.org.