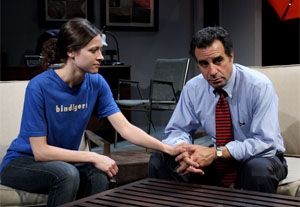 The central figure of D. Tucker Smith's drama is Artie Ehrlich (Ray Abruzzo), an executive at Bendiger's—an old-fashioned, family-owned department store. And in 2005, Artie finds himself with more on his plate than he can handle. He hasn't yet recovered from the death of his beloved wife, who died of breast cancer on 9/11. He's trying to shrug off the disastrous decline in sales resulting from the growing influence of Internet commerce. His teenage daughter Robbie (Maxie Solters) has taken up with undesirable boys she met on the Internet, so Artie has taken away her laptop and exiled her to his sister's place in New Jersey. Worse still, Robbie has inherited her mother's predisposition to breast cancer, and Artie can't face telling her that she's also afflicted. Meanwhile, the store has been invaded by beleaguered Armenian immigrant Marena (Stephanie Terronez), who took a night job as a janitor and is secretly living in the lawn furniture department. When Artie discovers her sleeping there in the small hours, he hasn't the heart to kick her out—and soon becomes involved with her.
Meanwhile, self-styled smart-guy Barry (Marc Aden Gray) has discovered that outside forces are poised for a corporate takeover of the company, and if that happens, heads will roll. He's determined not to be a loser, so he buries a promising business proposal created by his young Puerto Rican officemate Diego (Alex Pierce).
The shifting focus from character to character sometimes leaves us uncertain whom to root for, and Act 1, though always interesting, fails to generate much emotional heat. The play simmers along quietly till near the end, when a series of confrontations brings things to a rapid boil.
Direction, by writer Smith and Anjali Bhimani, is clear and straightforward. Abruzzo gives us an Artie who never lets his sense of guilt undermine his executive authority. Solters effectively captures the passionate anger of Robbie at what she considers her father's injustice. And Gray persuasively embodies the obnoxious condescension and arrogance of a wise-guy who's not as wise as he thinks he is. Pierce offers charm and conviction as the long-suffering Diego, who finally rebels against Barry's bullying. And Terronez is an engaging presence, though one can't always hear her.
Presented by and at the Open Fist Theatre, 6209 Santa Monica Blvd., Hollywood. July 15–Aug. 27. Variable schedule. (323) 882-6912. www.openfist.org.