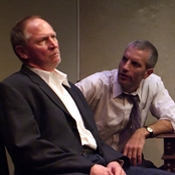 This long one-act by T.S. Cook (screenwriter of The China Syndrome) begins with "The Ballad of Joe Hill," sung by The Troubadour (Kim Story), and ends with a rousing rendition of "Which Side Are You On, Boys? Which Side Are You On?" At first glance the play might be mistaken for a 1930s labor play, but it deals with issues that are strictly up-to-date. The striking union workers here find themselves having to deal with globalization and international businessmen/crooks who owe allegiance to no country and are out to own the world.
The play was inspired by real events in West Virginia, where striking union workers were locked out, intimidated, and deprived of their jobs by scabs for 19 months. In this fictionalized version, it's a steel plant in Ravensridge, S.C., which turns out to be owned by Richard Miller (Jon Sklaroff) -- an international metals dealer, and a fugitive from American justice. He has taken refuge in Moscow and is now in cahoots with the Russian Mafia. Two union representatives, Will Torrey (Vaughn Armstrong) and Lilly Mathews (Emily Adams), follow him to Russia to attempt to negotiate an end to the strike, only to have their way blocked by Mafioso bodyguards. Will finds himself in Moscow's Klebnikov Prison, charged with murder and at the mercy of an old-style Communist police officer, Major Viktor Davidykov (Robert Trebor), who harbors bitter feelings toward America but has a lively, courageous respect for justice.
The storytelling here can sometimes be confusing -- it helps to read the playwright's notes in the program -- but there are telling scenes, with excellent performances by Armstrong as the hot-tempered union man, Trebor as the cynical but honest Russian officer, and Sklaroff as the cold-blooded American businessman. There's a touch of agitprop in the stereotypic characters, but the actors flesh them out nicely, and Trebor finds wry comedy in his scenes, as he wrestles with puzzling American idioms. Director James Reynolds, once he gets past an awkward beginning, stages the scenes briskly and effectively. Designer Victoria Profitt provides the minimal but serviceable set.
Presented by and at the Fremont Centre Theatre,
1000 Fremont Ave., South Pasadena.
Fri.-Sat. 8 p.m., Sun. 3 p.m. Feb. 23-Mar. 30.
(866) 881-4111. www.fremontcentretheatre.com.