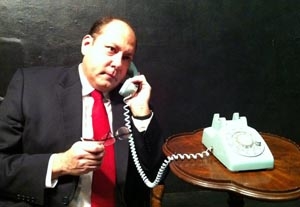 Playwright Luis A. Reyes took on a near impossible task when he set out to dramatize the impressive career of diplomat Richard Holbrooke, who racked up a spectacular résumé, in business and in government. He served under three U.S. presidents, served as assistant secretary of state for both Asia and Europe, was U.S. ambassador to Germany and to the United Nations, brokered the Dayton Peace Accords, wrote two books, and served as an executive for Credit Suisse First Boston and on the board of directors for AIG. His bio on Wikipedia runs to 11 pages. But, despite Reyes' fulsome title and Holbrooke's passionate efforts, when he died in 2010, the world remained stubbornly unsaved.
Reyes' play is intelligent, well-researched, and ambitious, but by trying to embrace Holbrooke's entire career, the playwright set his sights too wide. With the story's constant shifts of time, place, and chronology, and video coverage of five presidents and a couple of nominees, one almost needs to be a policy wonk to keep track. The writer offers up great dollops of recent history, but he hasn't found a vantage point that would make for viable drama and put the events in coherent perspective.
Reyes acknowledged in a curtain speech that this was a workshop production and the script was written hurriedly. He might have been wiser to postpone inviting the critics until his material had time to steep. No director has been credited for the production, and that too may have been a mistake: An experienced hand at the helm might have insisted on serving the needs of theater as well as history. As it is, the piece paints a bleak picture of the U.S. and its role in the world, made even bleaker by the election coverage that pours from our TVs nightly.
As Holbrooke, actor Bruno Oliver provides skill and yeoman's service, but his efforts are not always supported by the script.
Presented by and at Zombie Joe's Underground Theatre Group, 4850 Lankershim Blvd., North Hollywood. Nov. 27-Dec. 18. Sun., 7 p.m. (818) 202-4120. www.zombiejoes.com.