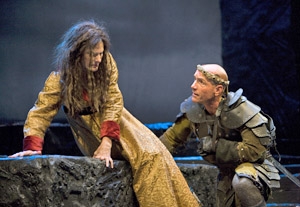 Treachery and deceit certainly rule the day in director Geoff Elliott's version of this Shakespearean staple. A universally exceptional cast supported by sumptuous designs is no doubt a firm foundation, but none of this would mean much were the title character not brought to life by the tremendously talented Steve Weingartner. There have been dark and foreboding Richards, even a lisping Richard or two. Weingartner's take is a sometimes eye-rolling, smirking, self-satisfied character, given wing by his soliloquies. It's a thin veneer under which lurks a bone-chilling and oftentimes volcanic malevolence. Weingartner works his prey with razorlike precision.
The production is littered with the bodies of Richard's victims and a host of wonderfully wrought supporting roles. Apollo Dukakis provides diametrically charged performances as Richard's heartbroken eldest brother, Edward IV, and later as the befuddled Lord Mayor of London. Deborah Strang, festooned in what appears to be dreadlocks and rags, is dynamic as Queen Margaret, widow of Henry VI, the lone voice warning all of Richard's plans. The agony displayed by Susan Angelo, as Queen Elizabeth, whose husband and children fall to Richard's plot, is likewise heart-wrenching. Jeremy Rabb's sharply drawn Duke of Buckingham is every bit the evil henchman Richard requires until his usefulness expires and he joins the growing list of dead.
Elliott's vision for this piece, set in and around London in the early 1480s, bursts forth from a darkened, almost Stonehenge type of scenic design (Darcy Scanlin). Jagged, irregular steps lead down to the raked stage, offering numerous, nonrepetitive traffic patterns. Gorgeously lit by Ken Booth, the action is seamlessly transported from scene to scene. Patrick Hotchkiss' sound augments the pageantry of the royal court as well as the background horrors of the battlefield. Nikki Delhomme's costuming is spectacular, a veritable feast for the eye. A minor quibble: The cast's execution of Ken Merckx Jr.'s and Spike Steingasser's fight choreography seemed a bit hesitant on the night reviewed. In particular, Weingartner's final confrontation with Freddy Douglas' Henry, Earl of Richmond, had a "by the numbers" feel to it.

Presented by and at A Noise Within, 234 S. Brand Blvd., Glendale. Oct. 3–Dec. 12. Repertory schedule. (818) 240-0910, ext. 1. www.anoisewithin.org.