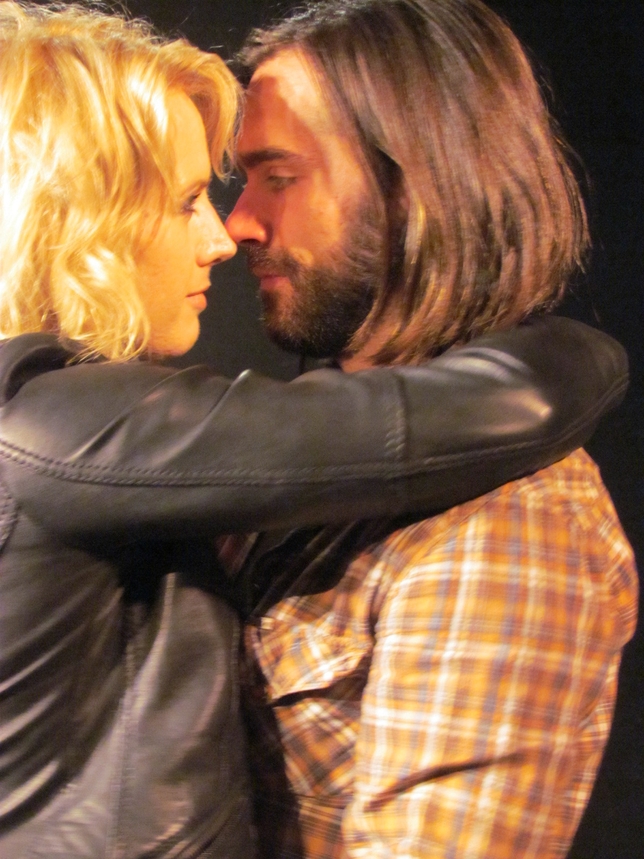 Fledgling playwright Cal Barnes should have quite a future ahead, despite the fact that his inaugural effort, "Rise," is at its heart rather predictable. When ponytailed and heavily tattooed evangelical preacher Henry Donner is visited in his office by the mysterious Alexandra Riverton, her baleful demeanor—and the presence of her otherwise unnecessary omnipresent backpack—almost instantly telegraphs what will be an unsurprising ending. Barnes' play is lifted from its inevitabilities by two factors: riveting performances and the 24-year-old Barnes' haunted, evocative dialogue. One can't help wonder how someone so young could harbor such a gritty bleakness in his worldview.
At this two-hander commences, former junkie Henry, addressing the audience as the congregation of his New Heart Christian Church, shares his passionate view of redemption while ominously mentioning his belief that man's every intent is evil by nature. Henry does this partly to "take the pastor off the pedestal" and relate to his followers, but it also reveals him as someone who has been through dark moments of his own. His salvation, he believes, has led him to doubt God a lot less than he doubts himself. His faith is shaken by Alexandra, who from her first whisky-voiced yet fragile proclamations portends something intensely sinister. Henry's assurance drains when he recognizes her as the drugged-out girlfriend he abandoned a decade earlier on a seedy New York street corner, where she could feel "all her dreams disappearing by the hour."
What drives this tale to its horrific conclusion is the multifaceted acting of Brett Colbeth and Gowrie Hayden as Henry and Alex. Both are fearless in exploring the almost poisonous chemistry between the characters, energizing a palpable need and layer after layer of visceral upheaval. Colbeth creates a jarring and increasingly more disturbing portrait of blind faith and shows how easily such euphoric revelations can unravel, while Hayden's intensely broken waif never devolves into what could easily become caricature.
Under Aaron Lyons' direction, Colbreth and Hayden keep the audience on edge as the former lovers careen toward disaster and challenge one another with increasingly unsettling intensity. Unfortunately, Lyons miscalculates how to keep them physically engaged, having his actors emote far too often from opposite sides of the wide stage, with lots of dead space between them. While it does set them apart like prizefighters waiting for the bell, it also forces us to divide our attention between them as though observing a Ping-Pong match.
Drawbacks aside, "Rise" is a fascinating roller coaster of emotional impact. The show, which was a best new play winner in the 2012 Hollywood Fringe Festival, suggests a great future for everyone involved in bringing it to its feverish fruition.
Presented by Zenith Ensemble, in association with Elephant Stages, at Elephant Stages' Elephant Theatre, 6322 Santa Monica Blvd., Hollywood. Nov. 8–Dec. 6. (323) 960-4410 or www.plays411.com.
Critic's Score: A-