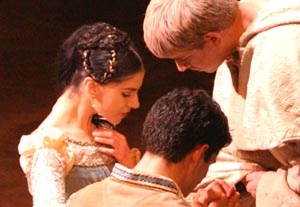 The look was sumptuous, the crowd scenes were bustling enough to evoke a real-life Verona, but the treat here was the acting skills of the two lovers. Considering that this ballet often features a lead performance that scuttles the mood, high praise is due the two dancer-actors at the July 17 production, as well as a surprising number of supporting players and American Ballet Theatre artistic director Kevin McKenzie, for this work.
Romeo was carefully interpreted by Marcelo Gomes. Under Gomes' care, Romeo's arc began as he laid down his sword after the first street fight; we saw him start to grow up and think of the consequences of his action. When he first saw Juliet, his youthful bravado visibly deflated; he seemed unable to breathe. Romeo became a vibrant, smitten, attentive lover, then was crushing when he realized he killed Juliet's cousin. In the crypt, Gomes made Romeo's final realization shattering.
Paloma Herrera smoothly transitioned from shy childish Juliet, at bounding play with her nurse, to too-wise-too-soon young woman, seated on her bed to make a horrific choice—a long moment to which choreographer Kenneth Macmillan allots exquisitely ample stillness. This Juliet was carefree, curious, amazed, shy, eager, brave, rash, enamored, contriving, and ultimately agonizing. Herrera made a sturdy Juliet; perhaps today this young woman would have not ended as Shakespeare penned her but would instead have gone on to grad school.
Also noteworthy were the portrayals by Daniil Simkin, completely involved in his every moment as a companionable Benvolio; Grant DeLong, hauntingly menacing as the usually bland Paris; and Isaac Stappas, brooding and cruel as Tybalt.
This is not to diminish these dancers' ballet technique. Herrera's fleet-footed bourrées were a wonder, reflecting a pitter-pattering heart as her upper body wafted through the air. Craig Salstein, as Mercutio, showed exemplary musicality. Particularly thrilling was the Act 1 trio danced by Gomes, Salstein, and Simkin—technical feats simultaneously demonstrated in three disparate but correct renditions. The swordplay, though balletic, was committed yet musical; and the falls the dying characters took, particularly Mercutio's, were genuinely concern-inducing collapses.
Presented by American Ballet Theatre at the Dorothy Chandler Pavilion, July 16
–
19
.