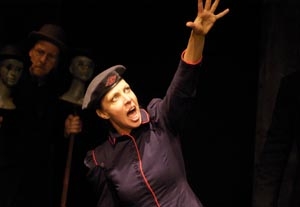 Brecht's play was undoubtedly meant to provoke. Under the direction of Michael Rothhaar, this production of it does so, indeed—mainly through the play's social messages, largely in our appreciation of many of the performances, but also in moments that make us want to temporarily lose our hearing.
It has been almost 600 years since Jeanne d'Arc was born, and she obviously continues to inspire and give pause. Brecht updates her battles, setting her as a missionary in Chicago's stockyards of the early 20th century. Joan Dark is certain poverty can be overcome by battling big business—in this case the raising and slaughter of animals. But major player Mr. Mauler argues that jobs will be lost if the businesses are shuttered. "If you want to make the world better for mankind, you've got to make mankind better first," goes the dialectic.
Dalia Vosylius plays Joan with a touch of hysteria, not far afield from the way Joan's namesake was portrayed by history. Joan is introduced to the wickedness of the poor by Mauler's henchman, Sullivan Slift, played to creepy perfection by Norman Scott (who also created the set and lighting design, with likewise eerie results). Mauler is given a very real, very evenhanded portrayal by Andrew Parks that in a way oddly makes Mauler our hero. Working well with a more presentational style, Robin Becker brings modern real-estate-agent chic to the stockyards of yore. Full-bodied characterizations come from Ed Levey and Tony Pasqualini.
However, serving to announce new scenes—as well as increase our unease and tax our senses—chains and pulleys clang and grate raucously. Actors work in claustrophobia-inducing proximity to the audience, keeping their voices at volumes that would befit Broadway houses. Yes, the audience is assaulted—by ideas, by actions. This production might be the thinking man's meat, but it might also be the weaker man's poison.
Presented by and at Pacific Resident Theatre, 707 Venice Blvd., Venice.
June 19–Aug. 8. Thu.–Sat., 8 p.m.; Sun., 3 p.m. (No performances July 3–4.)
(310) 822-8392 or
www.pacificresidenttheatre.com.