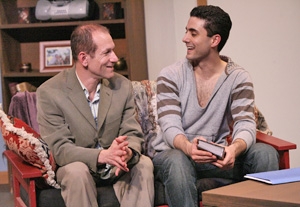 This work by playwright Saleem is reportedly based on autobiographical events, and it has been updated to reflect the current Mideast situation. However, something about this story seems a bit too gentle, considering the visceral enmity that separates the Palestinians and Jews in that part of the world. Even more glaring is the lack of genuine chemistry between the two main male characters, who carry on a forbidden love affair.
Nabeel (Saleem), a Palestinian, is a Ph.D. candidate at UCLA. He discovers that his roommate, Yaron (Korken Alexander), will be an Israeli Jew. As expected, the atmosphere is permeated with tension, but the two gradually start to relate as human beings and ultimately fall in love. When they try to continue their affair in the Middle East, they are overwhelmed by forces beyond their control.
In an awkward device, Yaron's mother (Eileen Barnett) and Nabeel's father (Avner Garbi) address the audience intermittently, imparting some of their families' history as well as their own sentiments. Director Ty Donaldson elicits varying levels of work from his cast. Saleem has a soft demeanor that is pleasant and relaxed, but he needs more moments of fire in the belly. Alexander's character goes through numerous changes, culminating in great pain, and the actor handles the arc of his role deftly. Barnett is engaging and sympathetic in essentially a thankless role. Garbi immerses himself totally in his character; there is something universally recognizable in his portrayal of a father who wants his son to marry and has a hard time accepting that this son is gay.
But the action more fully ignites with the performances of Rafael Feldman as Yaron's brother who serves in the Israeli military and Jay Ali as an advisor to the Arab Student League. Both characters are extreme militants for their respective sides, and the actors tackle their roles with passion and commitment. At some point there is a reference to "sleeping with the enemy," and this may well be the most effective way to peace and the most profound suggestion of the evening.

Presented by Lee Almoral Productions LLC and Buddha-Cowboy Productions at and in association with the Greenway Court Theatre, 544 N. Fairfax Blvd., West Hollywood. Mar. 6-Apr. 17. Fri., 8 p.m.; Sat., 3 and 8 p.m.; Sun., 7 p.m. (323) 655-7679, ext. 100. www.salamshalomtheplay.com.