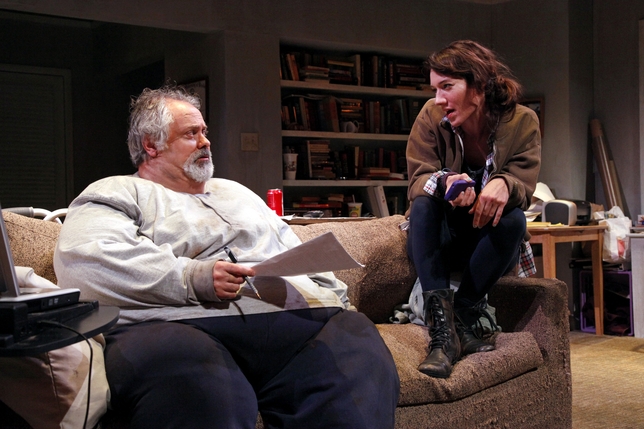 In his acclaimed 2012 Off-Broadway drama"The Whale," Samuel D. Hunter cleverly conflates the concepts and practices of the Mormon Church; the American literary classic "Moby Dick"; themes of faith, hope, and betrayal; and the massive burden of emotional pain, particularly all forms of frailty and anything caused by those we love most.
Hunter's protagonist is the morbidly obese Charlie (Matthew Arkin), who does online tutoring of expository writing for high school students from his apartment by voice, too ashamed of his 600-pound weight to be seen via webcam. The divorced Charlie is estranged from his ex-wife, Mary, and a 17-year-old daughter, Ellie, whom he hasn't seen in 15 years. He's also gay, was heartbroken by the death of his partner, and gets medical supervision from his partner's sister Liz (Blake Lindsley), a nurse. That Liz and her brother are children of a Mormon bishop figures prominently, which causes the appearance at Charlie's door of Elder Thomas (Wyatt Fenner), a 19-year-old Mormon on his mission, to carry considerable heft.
Arkin shows that Charlie has always been optimistic and life-affirming and still is, despite his size, finding comfort in memorizing the words of his favorite student essays and reciting them aloud to himself. The actor also displays Charlie's considerable self-loathing, a reflection of others' disgust for him. Rather than make Arkin look like he's wearing a fat suit, Kevin Haney's prosthetics give the actor realistic bulk, creating a man entombed in thick layers of flesh, his every breath a monumental labor. Director Martin Benson's compelling staging has Arkin rooted to the same spot on the couch for most of the play, with Charlie incapable of overcoming inertia, barely able to stand, and needing a walker to walk. Arkin has Charlie huffing and puffing even when seated and inactive. As Charlie's heart begins to wind down, Arkin's soft, high-pitched voice wheezes and rasps.
As much of a tour de force as Arkin's performance is, our focus is always on Helen Sadler's spiteful, contemptuous, blunt, insulting, bossy Ellie. The teen brims over with hostility, scorn, and anger, excusing her behavior by noting that she's used to jerks treating her "like dirt." Fenner's nerdy Thomas is Ellie's polar opposite: eager, talkative, naive, genuinely enthusiastic about his Mormonism, and utterly sincere. Lindsley's Liz is both a cigarette-smoking cynic and a goodhearted caretaker who uses tough love with Charlie, terrified his days are numbered. Jennifer Christopher paints Mary as an older version of Ellie, but one who still feels an aching love for Charlie.
Michael Roth's music has poignant keyboard passages, while his soundscape fittingly includes crashing waves. Hunter's scenario is grim and unrelenting, depicting five lost souls trapped by expectations past and present, certain that nothing they can do will avert terrible disappointment in all who know them.
Presented by and at South Coast Repertory, 655 Town Center Dr., Costa Mesa. March 15–31. (714) 708-5555 or www.scr.org. Casting by Joanne DeNaut.
Critic's Score: A