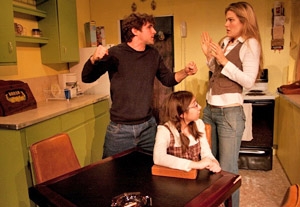 What should be a depressing play about lower-middle-class life in an economically deprived small town turns out to be one of the liveliest entries in the small-theater scene. At the crux of Lucy Thurber's West Coast premiere is the scarcity of most of the things a family needs to survive.
Martha, tough-tender and eloquently played by Rebecca Jordan—an actor with a face straight out of a Dorothea Lange photograph—has the unenviable task of keeping her family not only fed and watered but nurtured physically and psychologically, despite a desperate shortage of money, hope, and possibilities. Her husband, Herb, in a moving performance by Randy Irwin, is an eminently likable loser with little earning capacity and an insatiable thirst. Their son Billy, nicely captured by Jarrett Sleeper, is a teenager with a huge amount of promise but few hopes. Billy has turned to bullying aggression as his main means of communication. His little sister Rachel, an intensely spiritual child who can talk tarot on everyone's future but her own, is touchingly essayed by Bridget Shergalis. Big bluff Louie (big bluff Steve Walker), a local sheriff with more than just a friendly gesture or two on his mind when it comes to Martha, is ill-matched with his infinitely silly wife, Gloria (a raucous Wendy Johnson).
Into this worm-eaten woodpile comes a new teacher, Ellen (a visually stunning Kim Swennen), who latches on to Billy's promise in more ways than one. An innocent abroad in some ways, her overarching condescension to the Lawrence family wins Billy his shot at an education but makes Ellen the ultimate loser. "Ellen's smart," Rachel tells Billy, "but she's stupid."
Director Kappy Kilburn wields a loving goad over this consummately honest play that leaves holes in the heart and a tear in the eye but hammers all its points home with superb performances all around and very few clichés, albeit touches of very nasty language.


Presented by Needtheater at the Imagined Life Theatre, 5615 San Vicente Blvd., L.A. Oct. 23–Nov. 22. Fri.–Sat., 8 p.m.; Sun., 2 p.m. (800) 838-3006. www.needtheater.org.