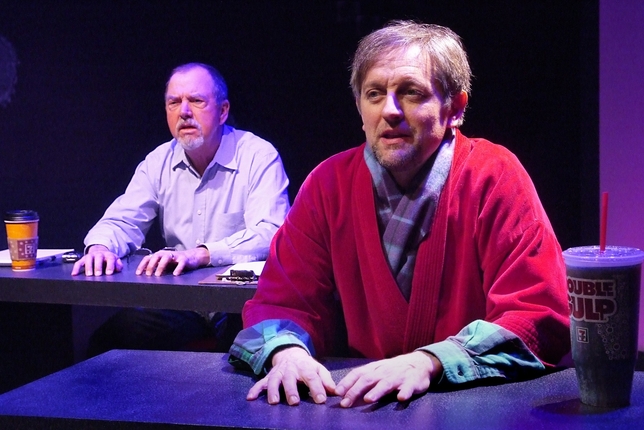 When you're out to fight wrongdoing in the world, what could foil your plans more than learning to sympathize with your enemy? Playwright Doris Baizley examines that question in her play "Sexsting"—based on a true story provided by criminal defense attorney Susan Raffanti—which is getting its Los Angeles premiere from the Katselas Theatre Company.
Richard Roe is an FBI agent with an unusual assignment. Rather than fighting crime in the field, his job is to sit at the computer and pose as SandiByTheSea, a confused 14-year-old girl looking for love on the Internet. Across the country a 46-year-old married man, John Doe, screen name JohnnyD, takes Sandi's bait. Richard lures JohnnyD in, setting him up to get caught in a sting operation, but the process takes time, and the longer Richard spends chatting with JohnnyD the more he finds he has in common with Sandi's Internet predator.
Baizley's text is for the most part just a transcription of the two men's instant messages, and that's where it falls flat; after 90 minutes of flirtation we more than get the point. Jim Holmes' direction doesn't add any variation to the repetitive writing. By keeping the two men seated and pretending to type for the majority of the play, he gets stuck in a directorial rut. The pacing becomes too slow, and the audience's attention wanes for lack of visual interest and action. The sequences during which the monotony is broken up—such as when Holmes brings the ensemble onstage to strike provocative poses and whisper sex-charged chat-room taunts at the two seated men—are the show's most interesting and creative.
Strong performances keep "Sexsting" afloat. JD Cullum's John Doe is alternately creepy and likable. He manages to portray obsession without overdoing it. As Richard, Gregory Itzin is funniest when he sarcastically speaks the coquetries of his 14-year-old alter ego, but his performance stiffens in more-emotional moments, and he doesn't make the threat of Richard losing his job feel real. Both men struggle during their in-person meeting at the end of the play; the anxiety of facing each other comes off as forced.
The skilled ensemble fills out the story as voices in Internet chat rooms and characters in John's and Richard's real lives. As John's kids, Danielle Marie Gavaldon and Wolfie Trausch are convincing in their teen angst. Christian Lyon earns a few laughs as Richard's overeager boss, pushing Richard to manipulate his target with talk of condoms. Bonnie Brewster is amusing as an older woman posing online with the name 2Young4U.
"Sexsting" walks some awkward lines. Baizley's intention may not have been to defend pedophiles, but she certainly does make you feel sorry for JohnnyD. Though her drama is at times powerful, it's more likely you'll leave "Sexsting" feeling dirty rather than entertained.
Presented by Katselas Theatre Company at the Skylight Theatre, 1816½ N. Vermont, L.A. Feb. 23–March 31. (702) 582-8587 or www.katselastheatre.com.
Critic's Score: C+