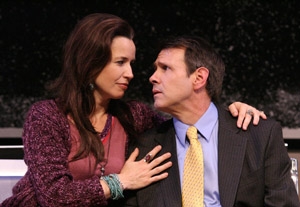 Steven Dietz's engaging two-character comedy features a pair of former lovers, Reed (Kevin Symons) and Elena (Michelle Duffy), who meet again by accident after 20-odd years, when both are stranded at an airport where a massive blizzard halts all flights. She's the same semi-hippie she always was, but he's no longer a free-spirited Democrat: He has become a staunch Republican—a buttoned-up, buttoned-down businessman, and the quintessence of everything he used to hate. She's shocked, and amused, by how much he has changed, and he's shocked by how much she hasn't. But their enforced proximity on a long night in a shut-down airport, and a liberal supply of alcohol, remind them of the things that drew them together and the things that drove them apart. Will they get back together? Will they indulge in a nostalgic fling? Or will they only go their separate ways in the morning?
Dietz's play examines their interpersonal collisions, their subsequent lives, and the fads and follies of the 1970s, when they were a couple. The stakes may not be terribly high, but the characters are likable and affectionately observed, and they are amusing and fun to watch, as they register the changes that time and age have inflicted on them. A moment when they simultaneously must fish for their glasses to read fine print elicited a warm laugh of recognition from the audience.
The actors play off each other beautifully as she attempts to tease him out of his stuffiness—and a few of his expensively conservative clothes—and he gradually reveals his romantic side and his long-buried goofiness. Under the deft direction of David Rose, they cleverly ring all the changes in their long, interrupted relationship. Set designer David Potts provides the imposing modernistic airport with snow swirling outside its vast windows, and sound designer Cricket S. Myers captures the sometimes funny sounds of a busy airport shutting down for the night.
Presented by and at the Colony Theatre, 555 N. Third St., Burbank. Sept. 17-Oct. 16. Thu.-Fri., 8 p.m.; Sat., 3 & 8 p.m.; Sun., 2 p.m. (818) 558-7000, ext. 15. www.colonytheatre.org.