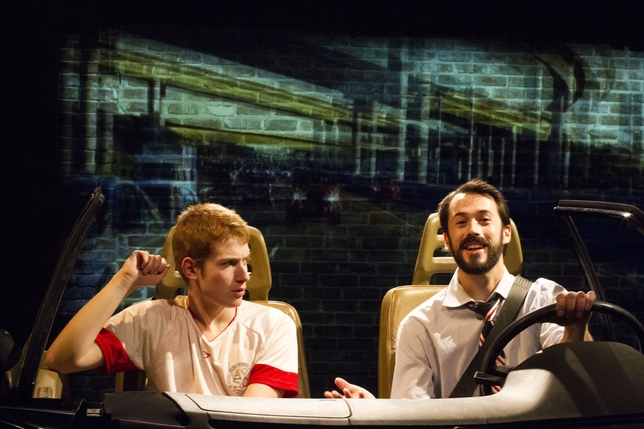 Playwright Dan LeFranc gives director Becca Wolff and her two resolute performers a monumental task in "Sixty Miles to Silver Lake." During the entire 70 minutes of playing time, actors Wes Whitehead and Daniel David Stewart, as a part-time father and his deeply conflicted estranged son, remain seated next to each other in the cramped shell of a Volvo as ever-changing snapshots of random cars driving along the 5 Freeway are projected behind them. KY and his boy Denny are on a long weekly trek from Orange County to L.A. Sadly, the Volvo seems to be the only place they have to try to communicate during their uncomfortable court-sanctioned time together. In most plays the passage of time would unfold linearly as they ride along, but not as envisioned by LeFranc.
Watching Denny mature from squeaky-voiced preteen to quietly controlled young adult could easily be predictable as KY chauffeurs him from soccer practice to visitations at the apartment KY sometimes shares with the Starbucks barista who shattered his marriage. The parents' relationship and KY's awkward attempts to discuss sex or pry information about his ex-wife are standard fare. Yet in LeFranc's hands the innate obviousness of the tale is shattered as time shifts as abruptly as in a sci-fi movie. Utilizing only changes in lighting, the 10-year-old Denny instantaneously transforms into Denny at 15, then 18, then back again into a squirmy, giggly boy.
The narrative device demands a director such as Wolff, someone able to mold her actors carefully while creating dynamic, muscular, always theatrical art. She and her team almost meet the challenge. Stewart is particularly facile in the rapid morphing of Denny from goofy kid to savvy teen and back again, his voice and body language a testament to what it means for an actor to fully commit. As KY, Whitehead shows himself to be a capable adversary, but the actor somehow misses something important: finding a susceptible and relatable side to this bitter, displaced man, who is trying desperately to win his son's love while keeping from screaming aloud about his screwed-up life. KY is as imperfect as any parent, but his constant belittling of Denny's mother and anger at his kid's childish moments of acting out are unlikable rather than poignant. Without an underlying vulnerability in KY, whenever Denny mutters, "I wish you weren't my dad," it becomes too easy to agree.
In the beginning, as the play crashes from one period to another, designer Elizabeth Harper's lighting is so understated that it takes a while to catch on to what is happening. Perhaps this is intentional and, if so, it certainly does keep the audience on its toes. Later, as things turn steadily more ominous and abstract, the shifts in time become scary and almost violent. This suggests a promise of things to come that never quite happens, making what could be a heartrending finale one more telltale glimpse at the play's inherent traps.
Presented by IAMA Theatre Company at the Lounge Theatre, 6201 Santa Monica Blvd., L.A. Feb. 1–March 10. (859) 893-5376 or www.iamatheatre.com.
Critic's Score: B