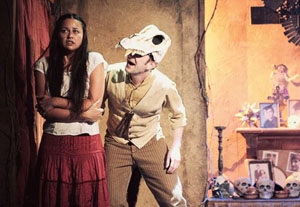 Joel Daavid's handsomely detailed setting—a Mexican-style adobe structure, vine-covered, and centering on an altar decked with skulls, baroque crosses, framed photographs, skeletons, a flaming heart, and other artifacts—defines the mood for Delondra Williams' play about life, death, change, and the fear of change.
On the Day of the Dead, young Maya (Nina Harada) is disturbed by the recent death of her mother, Corazon (Lorianne Hill), and the onset of menstruation. She runs away from her loving but bumbling father (Joshua Wolf Coleman) to visit the underworld in search of Corazon. Maya is guided on her way by a sort of dark Madonna figure, Santa Muerte (Lynn Odell), and a predatory and untrustworthy animal guide called Yellow Dog (Rick Steadman). During Maya's transit of the terrifying netherworld, we're treated to various tales of the deceased. A young man (Nicholas S. Williams) is visited by his dead lover in the form of a butterfly. A boy (Dan Wingard, subbing for Brad C. Light), suffering from arrested development, grows up to be a foot-fetishist and would-be child molester. A woman, Buttercup (Tricia Munford), fearing death, persuades her doctor to clone her as Buttercup Junior (Cat Davis), with disastrous results. A young couple (Gray Stevenson and Williams) suffers a mysterious fate that evokes the Greek myth of Cupid and Psyche. The relation between some of the episodes and the central theme is murky, but the piece is always colorful and intriguing.
Director Bill Voorhees utilizes his large cast to create a mood of phantasmagoria, ably assisted by Mark McClain Wilson's sound design, Nancy Dobbs Owen's choreography, Matt Richter's lighting design, and Lauren Thomas' costumes (she has created splendiferously elaborate ceremonial attire for the ancestral god Quetzalcoatl).
Most actors in the large cast demonstrate their versatility by playing multiple roles. Harada neatly captures Maya's desperation and her determination, despite her fears. Hill's Corazon is wily and resourceful even in death, cleverly outwitting the sinister Mitch (a flamboyantly evil Keith Allen), who holds her in thrall in the underworld.
Presented by and at Theatre of NOTE, 1517 N. Cahuenga Blvd., Hollywood. Oct. 1–Nov. 6. Fri.–Sat., 8 p.m.; Sun., 7 p.m. (323) 856-8611. www.theatreofnote.com.