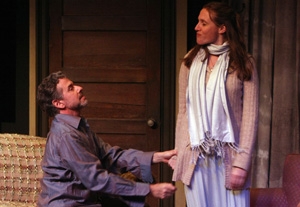 Playwright David Hare's 1995 drama, about the reunion of two lovers, delivers its political message indirectly, in the guise of a complicated love triangle that has been torn apart. Although Hare's story is slow to start, it builds strong momentum under the direction of Ken Meseroll and the work of a solid cast.
Kyra Hollis (Erin Shaver), a schoolteacher in her early 30s, lives in a shabby flat in a downscale part of London, laboring daily to teach poor children. But Kyra's life wasn't always this way. For six years, she lived in the home of successful entrepreneur Tom Sargent (Stuart W. Howard), along with his wife and son Edward (Benjamin Scott Perry). Theirs was a cozy domestic relationship in which Kyra was sleeping with Tom, unbeknownst to his wife. Everyone seemed content until Tom's wife found out and Kyra abruptly fled. Six years later, Tom's wife has died, and he is seeking out Kyra again, accusing her of abandoning him.
No one in Hare's piece seems overly curious about how this complex web came about in the first place, other than the fact that Kyra and Tom were attracted to each other. Setting aside the unanswered questions about the technicalities of this conjugal arrangement, the play dives into a sophisticated and fascinating dissection of the social undercurrents of the relationship. Tom comes from working-class stock, has become a big success, and has very little patience for people who aren't rich and successful. Kyra, on the other hand, comes from a higher social class, has a university degree, and cares deeply about the plight of the poor. In the second act, the two battle over what they believe in and how their lives have diverged. While the play is somewhat short on emotional engagement, the battle of ideas is often captivating. Howard and Shaver are intelligent adversaries, as their characters match wits and trade insults. Perry, in a couple of brief scenes, is a warm and well-meaning go-between.
Presented by Metis Productions at the Fremont Centre Theatre, 1000 Fremont Ave., South Pasadena. May 29–June 20. Thu.–Sat., 8 p.m.; Sun., 3 p.m. (866) 811-4111. www.fremontcentretheatre.com.