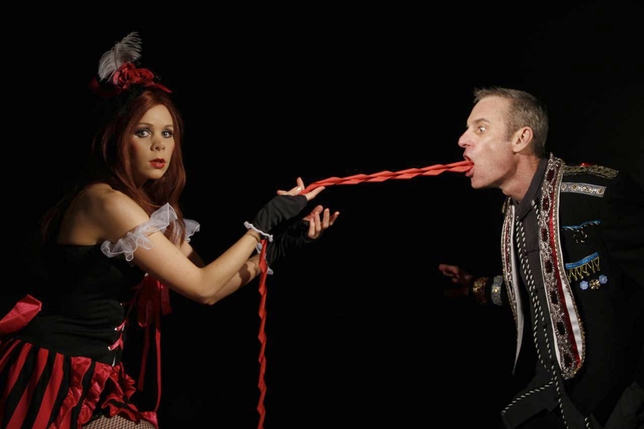 Magic, Albie Selznick jokes at one point during his show, is "the world's second-oldest profession." Whether or not that's true, magic is a very old form of performance. Selznick's "Smoke and Mirrors" makes it easy to see why: Illusions and tricks of misdirection captivate the audience and are delightful to see onstage.
Rather than doing a typical magic show, Selznick weaves a series of increasingly advanced tricks throughout a semiautobiographical story. He begins as a pajama-clad lisping child trying his magic skills out on a dollar bill. He brings us all the way through his awkward teenage years of playing with his Ouija board and into adulthood as a working professional magician. He uses his grief over the death of his father and the idea of fear as themes to help the audience understand how magic became a means of escape for him from the real world.
Part of the reason "Smoke and Mirrors" is able to hold the audience's attention for 90 minutes is its structure; the combination of scripted theater with magic tricks and a little audience participation provides enough variety and surprises to keep us engaged. But in large part Selznick's abilities as a performer are the hook. He breaks a sweat running around the stage for more than an hour, and his high energy is what makes him so watchable.
"Smoke and Mirrors," though performed as a series of monologues, is not a one-man show. Magicians need their assistants, after all. Teena Pugliese plays Trix, a giant imaginary mute rabbit, and she builds a lovable character with playful physical humor. Pugliese also pulls off some impressive sleight-of-hand—or sleight-of-paw, rather. Brandy LaPlante also helps out in the role of Bessie Houdini. Her coy smirks and biting one-liners add mischievousness to the illusions on which she assists.
The props and visuals are stunning—Selznick pulls razorblades from his mouth, eats fire, and causes live birds to materialize out of nowhere—but the show's seamless technical elements are enchanting as well. Jay Lee's fun video projections bring Harry Houdini and his wife back from the dead and onto the stage and create the spooky floating face of a mind-reading oracle. Julianne Dodds' costumes add appropriate sparkle and flair to the production.
Numerous though his talents may be, Selznick is not a very strong writer. The script's poignant moments rely too much on clichés, the theme of fear becomes repetitive, and the final scene is anticlimactic. Does it matter? Not really. "Smoke and Mirrors" is about magic, wonder, and spectacle. You'll leave feeling spellbound by Selznick's display, scratching your head and thinking, "How did he do that?"
Presented by Disappearing Inc. and the Road Theatre Company at Lankershim Arts Center, 5108 Lankershim Blvd., North Hollywood. Jan. 26–April 28. (800) 595-4849 or www.smokeandmirrorsmagic.com.
Critic's Score: A-