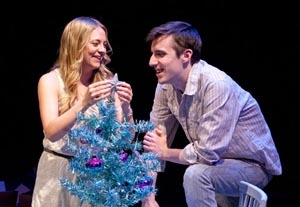 Combining a bittersweet romantic tale, inspired by O. Henry's classic short story "The Gift of the Magi," with pop songwriter Burt Bacharach's first score for a musical since 1968's "Promises Promises" sounds like an enticing formula for a holiday-season bell ringer. Add a fine four-member cast, and the prospects become even brighter. Yet, this world-premiere chamber musical, featuring lyrics and libretto by Steven Sater ("Spring Awakening"), seldom advances beyond bland mediocrity.
The silky style of Bacharach's love duets and ballads here evoke memories of the 1960s and '70s, when gifted singers such as Dionne Warwick and Gene Pitney crooned the chart-toppers created by composer Bacharach with his longtime lyricist collaborator, Hal David, such as "A House Is Not a Home" and "Alfie." Unfortunately, the predominantly moody numbers here are hampered by a sameness that wasn't evident in Bacharach's bouncy work with David on "Promises Promises." Sater's unimaginative lyrics don't help.
A Christmas Eve phone call in Manhattan between former lovers Molly (Michelle Duffy) and Ben (Jason Danieley), a struggling songwriter, segues to a 20-year flashback to the day they met in an Italian restaurant, where Young Ben (Andrew Mueller) is entertaining customers at the piano and Young Molly (Jenni Barber) is a waitress. Infatuated by the server, Young Ben serenades her with "Molly," a song that he wrote for her. The idealistic promise of young love is contrasted with disillusionment, as myriad problems drive apart the love-struck couple. In surrealistic moments, the younger and older versions of the characters interact, primarily leading to a sense of contrivance.
Director Will Frears' in-the-round staging is as minimalist as the material. Scenic designer Takeshi Kata provides a few tasteful furnishings adorned with smart holiday-season décor. The orchestra, skillfully helmed by orchestrator Jonathan Tunick and music supervisor Lon Hoyt, is offstage. Two onstage pianos are played by Danieley and Mueller.
The production is slickly polished, and the musical skill of the performers is impeccable. Seasoned vets Duffy and Danieley are in superb voice, and they elicit moments of humor and warmth from the thin narrative. Barber is appealing as the ebullient Young Molly, and Mueller is a major talent in the making, singing with panache and radiating star presence.
Undemanding audiences might find this holiday confection satisfying, while devotees of the work of Bacharach and Sater will likely be wishing for something heartier.
Presented by and at the Old Globe, 1363 Old Globe Way, San Diego. Dec. 7-31. Tue.-Fri., 7 p.m.; Sat.-Sun., 2 & 7 p.m. (619) 234-5623. www.theoldglobe.org.