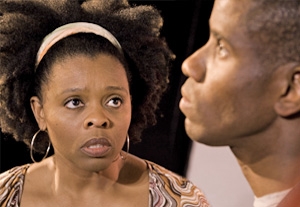 It has been six years since L. Trey Wilson impressed critics with "Stage Directions," and his latest effort should add to his reputation as a playwright capable of blending genuine comedy with deep universal social issues. Refusing to fit easily into the category of African-American play or gay-theme play, "Something Happened," assisted by a high-caliber cast, contains several well-defined characters and lots of laughs, and it brings tough issues up for debate.
With clear nods to the storytelling style of John Guare's "Six Degrees of Separation," Wilson, who also directs, opens with a shock. Unaware that their 17-year-old son, Donovan (Eric B. Anthony), may be gay, parents Doug and Deanna (William Christian and Mashari Laila Bain) find him having sex with Raymond (Rob Nelson), his longtime friend from across the street. The instance snowballs until it rolls over everyone, including Raymond's parents (Christopher Guyton and Fuschia!). Jeorge Watson and Lisa Canning portray the couple's good friends, and Allan Louis handles a small but integral character, Gary, whose appearance provides an unexpected twist.
Leading the impressive cast are Christian and Bain, who bring a sense of reality to every moment. Their conversational delivery and restrained performances allow them to transition seamlessly from wild humor to heavy drama. And Louis, as Gary, exudes quiet desperation that adds another layer to the complex set of issues.
As director, Wilson makes full use of the theatrical medium. The characters directly address the audience, and actors remain onstage as viewers when not in the scene. He also replays a scene from a different point of view. With its shining performances and well-crafted scenes, "Something Happened" intrigues and entertains from start to finish.
Presented by and at Pacific Stages, 2041 Rosecrans Ave. #170, El Segundo. April 8–May 16. Thu.–Fri., 8 p.m.; Sat., 3 and 8 p.m.; Sun., 5 p.m. (310) 868-2631. www.pacificstages.org.