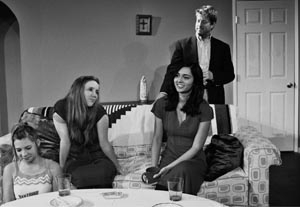 Tess (Allison Donnelly) has a secret history behind her upcoming marriage to John (Dennis Delsing); the purpose of Chris Collins' play is to unravel this secret. What is clear is that Tess and her two young daughters, Deena (Sierra Abel, alternating with Lauryn Mary Wilson) and Joyce (Lindsey McGee), aren't quite in on the secret, maybe because Tess is about to marry the stalwart John, after divorcing their father, Edward (Scott Hanselman), with whom she has joint custody. Not to worry: Edward's sister Eva (Tina Gloss Finnell), a failed musician with a jealous streak, arrives on the scene to explain it all—at least, her version of it. There's a good deal of deception and bitchery, and oodles of explanation, expiation, and expatiation, none of which clears the playing field satisfactorily but turns the play into a two-hours-plus wordfest, with only a smidgen of action. And much of the history remains hidden. Despite Collins' quite literate, if repetitive, script and some excellent performances, we're ultimately in the dark as to what is at stake in this unhappy family's story. Donnelly allows us to see Tess' pain, but the reasoning behind her actions is muddied and doesn't offer an explanation of her character's behavior.
Tess makes an unfortunate mistake when she invites her ex, his sister, and his girlfriend (Lisha Yakub) to her birthday-engagement party; and with a lot more talk and too much wine, truths and lies will inevitably out, with unfortunate and tragic results.
Director Anne Marie Bookwalter has drawn out some excellent performances, keeping the discourse moving, but the lengthy, repetitive, drowse-inducing, verbalizations tend to succumb to obfuscation rather than clarify.
Presented by Fogbank Entertainment at the Secret Rose Theatre, 11246 Magnolia Blvd., North Hollywood. April 17–May 10. Fri.–Sat., 8 p.m.; Sun., 3 p.m.
(323) 960-7735 or www.plays411.com/songoftess.