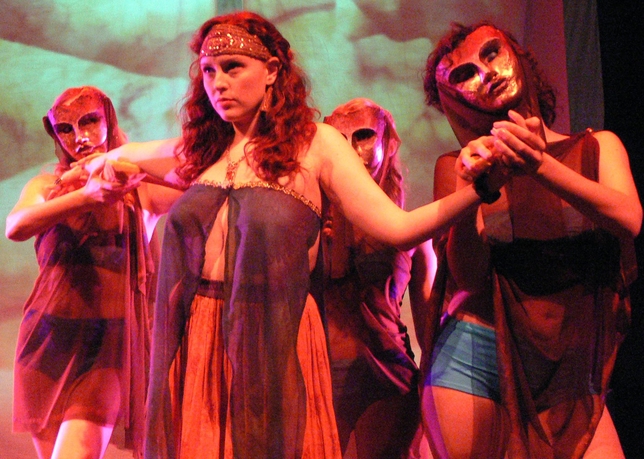 Literary hoaxes have made headlines recently in the form of memoirs reclassified as fiction. Flash back to 1920, when Parisian novelist Pierre Louÿs caused a stir after revelations that his "find" of a mass of racy lesbian poems—the supposed memoir of an ancient Greek courtesan named Bilitis—was in fact entirely his own fiction. It's a provocative tale. But while this is ostensibly the origin of Rogue Artist Ensemble's latest "hyper-theatrical" adventure, this isn't really the story we see onstage. Instead, playwright Katie Polebaum, director Sean T. Cawelti, and the ensemble have pulled out all of the design stops to give us a somewhat muddled pastiche of words, imagery, music, movement, and impassioned performances that, while impressive, leaves us sorely in need of a story and characters in which to believe.
We're presented with history right away. Haylee Freeman's lighting washes "Songs of Bilitis" in lovely sepia tones as we see photos of the real Louÿs and cohorts, including composer Claude Debussy, then meet the novelist in the form of a lanky and expressive Christopher Rivas, who looks as if he just stepped out of the photo. Nice. Then this pressing question is put to him: "Why did you lie?" Whether we get the answer is neither here nor there. However, it's never clear what he actually lied about.
We join Louÿs, Debussy (Stephen Elrod), and hired exotic companion Meriem (Estela Garcia, also playing a real-life character) in Algeria circa 1892, where drinking, dancing, hookah action, and, yes, sex transport Louÿs' imagination back to ancient Greece, leading us to believe that this is a story of the creative process. The writer discovers young Bilitis (Ayriel Hartman), an innocent shepherdess who soon loses her innocence and then some. As Bilitis' tale unfolds we start to consider that this is instead a compelling woman's story about unrealistic expectations, hurt, betrayal, and sex. Then, because we keep returning to Louÿs' hotel room in Algeria, it strikes us that perhaps this is the story of a writer destroying himself and his muse or getting lost in his art.
Performers Christina Aimerito, Angela Brockunier, Heidi Hilliker, Zach Kanner, and Steve Madar complete the cast, and there is no dearth of visuals, including Christina Bercovitz's puppets, wonderful masks by Keith Mitchell, and a dizzying turn by video designer Matthew G. Hill. Add yet another layer from composer Ego Plum. Sarah Krainin's set manages to house it all, but in the end the presentation doesn't help us focus and much of the humor and erotica is lost. There is nothing for us to grasp onto, even if it's just that we're supposed to surrender to the fluidity, subjectivity, and theatricality of words such as "lie" and "hoax."
Presented by Rogue Artists Ensemble at Bootleg Theater, 2220 Beverly Blvd., L.A. March 8–30. (213) 389-3856, www.bootlegtheater.org, or www.rogueartists.org.
Critic's Score: C