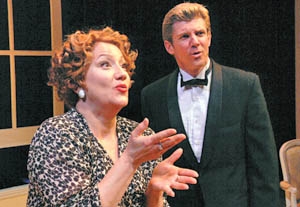 British playwright Stephen Temperley's bittersweet comedy is a "fantasia on the life of Florence Foster Jenkins," a Manhattan singing sensation in the early 20th century, known more for her elaborate costumes and high-society profile than for her operatic talent. The comedic duo of Constance Hauman as Jenkins and Brent Schindele as her accompanist Cosme McMoon makes for an entertaining, if uneven, production.
As conjured by Temperley's writing, Jenkins is a performer brimming with confidence but short on talent—a diva who can barely carry a tune. When she approaches aspiring pianist McMoon about a partnership, he has to weigh the pros and cons of teaming up with this society matron. Not surprisingly, he opts for the paid gig and ends up working with her for more than a decade.
The surprise is the skyrocketing popularity of Jenkins' act, which starts with a recital for a few friends and ends up with a performance at Carnegie Hall and a recording of her songs. What Jenkins fails to realize, through the fog of her impermeable self-confidence, is that the audience is showing up in droves to watch her make a spectacle of herself. Barely able to contain themselves, audience members stifle their giggles or run up the aisles to burst out laughing the lobby. Undaunted and unaware, Jenkins continues her singing, while McMoon dies a thousand deaths every evening until her final performance at Carnegie Hall when the truth of her plight is at last revealed to her.
Hauman, a gifted opera singer and performer, soars to comedic heights as she revels in off-key renditions of Mozart, Gounod, and other opera standards, not to mention a hilarious butchering of the jazz classic "Crazy Rhythm." But the ultimate musical insult is her rendition of "Ave Maria," which Hauman milks for every inharmonious laugh. Schindele is a terrific straight man, registering horror with each new musical travesty. Direction by Gregg W. Brevoort is excellent.
Temperley's script wavers between comedic and dramatic, which makes for an unsettling, often uneven tone. The deeper message of the untalented artist struggling to express the beautiful music of her soul when she can't carry a tune is difficult to swallow, as truthful as it may be. But, in the end, the payoff is an emotional connection with this delightful character who was not afraid to sing her heart out, even if it sounded more like a braying hound. As Jenkins said, "Some may say that I couldn't sing, but no one can say that I didn't sing."
Presented by and at the Falcon Theatre, 4252 Riverside Drive, Burbank. Feb. 5–28. Wed.–Sat., 8 p.m., Sun., 4 p.m. (818) 955-8101. www.falcontheatre.com.