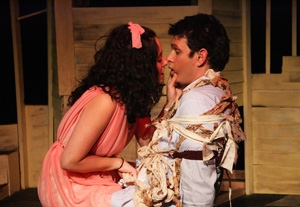 Who doesn't love a good old-fashioned family musical—especially one based on a '60s cult horror film in which a family suffers from a degenerative disease that manifests itself in decidedly unsavory ways? The rock 'n' roll incarnation of Jack Hill's "Spider Baby: The Maddest Story Ever Told" by Enrique Acosta is a sort of scattered, uneven fun-fest that, though obviously a labor of love and despite troublesome gaffes, ends up as a scrappy, spirited hoot.
We learn early on in this quirky tale told by a distant relative that the last living survivors of the Merrye clan are afflicted by a condition that strikes around age 10, causing the once-innocent children to regress into a violent, prehuman state. Things get worse as they age, so sweet young Elizabeth (Dominique Cox) reluctantly acts as the right hand of caretaker Bruno (writer-composer Acosta), helping to dissuade her elder sister Virginia (Bianca Gisselle) from playing "spider" with unwitting houseguests—yes, it involves trapping and consuming them. And then there's brother Ralph (Jose L. Hernandez), a brawny beast who's quite understandably mistaken for a baboon when estranged family members come to call. It's this visit by Uncle Peter and Aunt Emily (Jesse
Seann Atkinson and Tanya Wilkins), who have designs to take over the estate from the children, that awakens animal urges all around and ultimately shatters the Merryes' perverted domesticity.
Under Helen Acosta's direction, the production has a great energy, and each performer dives into the material unabashedly. Acosta's tunes include lovely dysfunctional lullabies ("It's Not Nice to Hate" and "Children"), haunting power ballads (Hernandez rocking it on "Slippin' Away), and atonal choral pieces ("What Are They Thinking"). Hernandez, Gisselle, and Atkinson are especially strong vocally; and nods to drummer Nick Clark and guitarist Dyllan Oakeley, who play live on—puzzlingly—only some numbers. But where "Spider Baby the Musical" gets wobbly is its book. Here, Acosta misses the opportunity to tie together all the creepily appealing bits that are thrown at us. Instead, dialogue too often seems arbitrary and even incoherent; he's not helped by confusing staging. But in the end, family is what matters. And this one's got its heart in the right place.
Presented by AFS Entertainment  at the Lyric Hyperion Theatre Café, 2106 Hyperion Ave., L.A. Oct. 15–Dec. 5. Fri.–Sat., 8 p.m.; Sun., 7 p.m. (800) 838-3006. www.brownpapertickets.com.