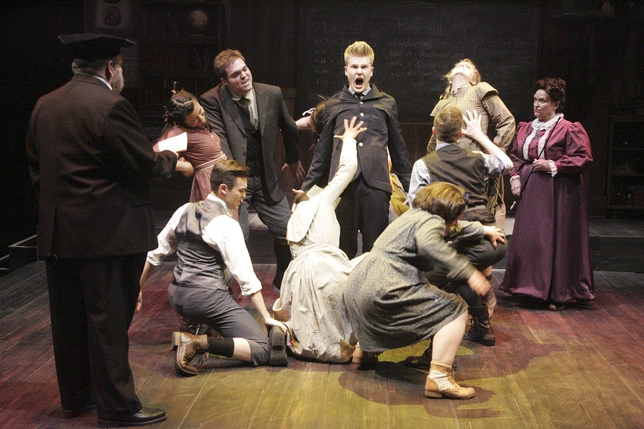 Like the once-controversial 1891 Frank Wedekind drama on which it's based, Steven Sater and Duncan Sheik's Tony Award–winning 2006 musical "Spring Awakening" risks interpretations that are overwrought, stilted, or unintentionally funny. Fortunately, as directed by Brian Kite, music directed by John Glaudini, and choreographed by Dana Solimando, La Mirada Theatre for the Performing Arts' nuanced production creates something extraordinary. Its 11 young actors prove fearless in depicting how a group of troubled teenage classmates in 1890s Germany struggle to navigate the rocky shoals of puberty with no truthfulness or guidance from their parents and teachers.
By placing the audience onstage with the performers and substantially reducing the cavernous theater's seating capacity to 199 seats, La Mirada has engineered an experience far more intimate than usual. We're thrust directly into the characters' lives and the innocence that their distorted views of sex only magnify, naiveté that's very real thanks to Kite's subtle direction and the performers' nerve. Sater's book wisely hews closely to Wedekind's original text, while his lyrics offer windows into the characters' minds that dialogue alone couldn't achieve. Sheik's alternative-rock score proves ideal, appealing to young audiences by speaking to them in a language they'll respond to while giving the staging the emotional dynamism of a rock concert. At the same time, as befits the play's themes, Sheik's music pleasingly leans toward understatement.
Austin MacPhee as Melchior Gabor, Micaela Martinez as Wendla Bergmann, and Coby Getzug as Moritz Stiefel are the evening's core. Tall and confident, MacPhee's Melchior is calm and rational, approaching sex through both reasoning and instinct while privately wrestling with self-doubt. Martinez embodies Wendla's generosity, curiosity, and passion, as well as a virginal innocence that allows for sex with Melchior without realizing its consequences; their physical intimacy is halting, tender, and sweet. Getzug's Moritz is a study in panic and fear, his face constantly contorted in confusion and anger, making his suicide inevitable. All of the cast's youthful members are in total command of their roles, up to the score's vocal demands and the choreography's sensuality.
Linda Kerns and Michael Rothhaar skillfully essay all the adults, showing how the constricted, puritanical outlook of parents, teachers, school headmasters, and religious leaders alienates the town's children while generating guilt and shame over their changing bodies' natural impulses. The uncredited period costumes, Rich Rose's marvelously detailed re-creation of a late 19th-century high school classroom, and Steven Young's carefully gradated lighting feed the musical's themes of guilt, shame, confusion, isolation, and poignant longing. Rarely is such frank material and naked, raw emotion given such heft, making this staging heartbreakingly honest.
Presented by McCoy Rigby Entertainment at La Mirada Theatre for the Performing Arts, 14900 La Mirada Blvd., La Mirada. March 22–30. (562) 944-9801, (714) 994-6310, or www.lamiradatheatre.com. Casting by Julia Flores.
Critic's Score: A