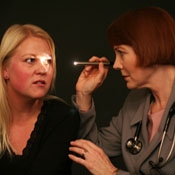 In playwright John Olive's drama, gentle and sensitive young Catherine (Meg Wallace) has schizophrenia. The good news is that Catherine's condition can be controlled with massive doses of Thorazine, which is prescribed by her kindly, maternal shrink Joanne (Barbara Keegan). The bad news is that Catherine is a poet, and she feels that the drug essentially destroys her artistic abilities, turning her into a brain-dead potato with legs.
Released from the mental hospital where she has been committed for some time following an emotional fugue, Catherine tries to get her life back together. Her publisher best friend Alice (Rachel Harder) subtly trying to push her back into writing, Catherine meets up with a handsome, stable stockbroker (Brian Barth on the night reviewed). All this prompts Catherine to make the decision to self-medicate, which means supplementing her meds with liberal swigs from a bottle of a nice Chablis. Madness results -- as, tragically, does brilliance.
The main problem with Olive's drama is that it tends to overromanticize schizophrenia in a way that comes across as being faintly manipulative. Director Trace Oakley presents Catherine as a waiflike beauty whose fragile talent is intimately related to her insanity. And the character's descent into lunacy is so beautiful and operatically tragic -- well, who wouldn't want to have schizophrenia if it lets you be so pretty and nice? The disease-of-the-week soap-operatic nature of the work ultimately trivializes what is essentially a medical condition.
Still, Oakley's production, with its echoes of Bohemian garrets and gritty ambiance of desperation, has a sensitive intimacy that is frequently quite affecting. And Wallace's turn as a woman who descends into insanity is touching and powerful.
Wallace has clearly done her research on the medical condition of schizophrenia: She shows great versatility as her slightly zoned-out turn when she's a Thorazine zombie gradually shifts into edgy twitchiness. Keegan's performance as the world's most caring shrink is nicely done too, and we love her acting in a "dream sequence" in which the psychiatrist appears to be as mad as her patient. As Catherine's slightly oafish boyfriend, Barth amusingly depicts a fellow who doesn't know what to do with a girlfriend with more personalities than he figured he'd be dating.
Presented by Collaborative Artists' Ensemble at Gardner Stages,
1501 N. Gardner St., West Hollywood.
Fri.-Sat. 8 p.m. (Also Sun. 8 p.m. Feb. 10-17.) Jan. 11-Feb. 17.
(323) 860-6569. www.plays411.com.